what's on
Concert: Eroteme presents Jake Meginsky + Pat Thomas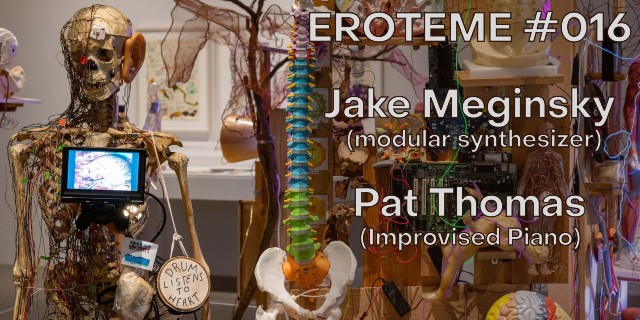 Eroteme's June offering brings together the rhythmic experiments of electroacoustic percussionist Jake Meginsky (US) & the sonically dexterous, utterly unique pianist Pat Thomas (UK). Two ahead-of-the curve solos followed by a genre-defying first time collision in duo form.
Jake Meginsky:
February of 2021 marked an eventful month for visionary Western Massachusetts electro-acoustic percussionist Jake Meginsky: the birth of his daughter Luce, the death of his friend and mentor (and the subject of his celebrated 2018 documentary, Full Mantis) Milford Graves, and the creation of Trinities. A four-piece suite heavily inspired by Graves' notion of the primacy of threes as "a fundamental pattern in the universe – and the lowest, strongest and most generative structure in rhythm" the album showcases Meginsky's adventurous vein of pointillist minimalism: stark, oblique, cerebral, fluid. It's free music in both form and function, liberated from rhythm, pattern, or expectation. Abrupt flurries of metallic reverberations ping and echo against charged silences like avant-garde morse code. Textures clang and hang in low-lit air. Presence and absence commingling in elusive ballets of resonance and negative space.
Among the many influential teachings of free jazz icon Milford Graves was the idea of three-ness as "the underlying structure… the grounded being of all music." It's a concept both dialectical and divine – the sacred geometry of an idea, its opposite, and the synthesis that binds the two. For Trinities, Meginsky developed modular synth patches that allowed him to explore triplet structures in an intuitive way, "the threes as a structural principal, the building blocks, felt rather than heard". During sleep deprived sessions with his newborn infant listening, he channeled the grief of Graves' passing in early morning improvisations alternately quiet and questing, inquisitive and defiant.
The outlier is "2521," a celestial lullaby of suspended frequencies composed on a 4-track in the birthing room of the hospital during a particularly strict phase of quarantine lockdown (no coming or going, or visitors, for a week straight). Meginsky played the piece for his daughter "as she came into this world, and while she slept." Its harmonic tranquility ebbs and radiates in soft arcs like a soft dawn glowing on the horizon – welcoming those newly here, and waving warmly to those in the hereafter.
Pat Thomas:
Pat Thomas studied classical piano from aged 8 and started playing Jazz from the age of 16. He has since gone on to develop an utterly unique style – embracing improvisation, jazz and new music. He has played with Derek Bailey in Company Week (1990/91) and in the trio AND (with Noble) – with Tony Oxley's Quartet and Celebration Orchestra and in Duo with Lol Coxhill.
"Sartorially shabby as Thomas may be, and on first impression even rather stolid, he has a somewhat imperious charisma that's immediately amplified when he starts to play. Unlike other pianists whose virtuosity seems to be racing ahead of their thought processes Thomas always seems supremely in command of his gift, and his playing, no matter how free and ready to tangle with abstraction, always carries a charge of authoritative exactitude." – The Jazzmann