what's on
Concert: Healing Our Child Within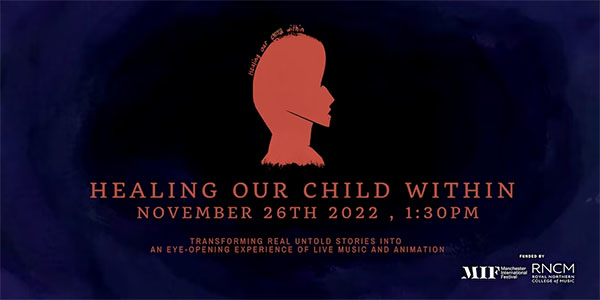 Winner of the RNCM Creative Innovators Award, Healing Our Child Within transforms the real, vulnerable childhood stories into animation film and live music.
Featuring the laureate of the 2017 Zachodniopomorski Chopin Competition and the winner of the National Cello Competition, guest pianist Roksana Dabkowska and cellist FangNing Dong take us on an intimately ruminative and healing journey with Chopin's music.
Tickets are free but limited: first-come first-served. Donations to HAVOCA (Help for Adult Victims Of Child Abuse) will be appreciated.
Disclaimer: Certain images and wordings might cause slight discomfort to audience.
---
"Your actions and words hurt me when I was young."
He finally plucked up the courage and blurted out the lines.
He didn't want an apology. He just wanted to get closer to him. To reconcile the distant relationship he and his dad always had.
"Are you crazy? Be grateful for what you've got! "
"I hope I'm not born into this family!"
Deeply wounded, he left. The inner child who was once hopeful for love, never wanted to be seen or heard again.
We all have a broken part of us that longs to belong and to be healed.
---
Programme
Animation Films:
"Anna", "Father and I " , "Not Silence"
Music Performed by E-da-nee NG
Guest Artists:
Pianist Roksana Dabkowska , Cellist FangNing Dong :
Chopin Piano Sonata No.2 , i. Grave, Doppio Moviemento
Chopin Cello Sonata Op.65, iii. Largo
Chopin Nocturne in F major Op.15 No.1
International partnerships:
Mathilda Haite Higgins, The Mokumentary, Elisa Lotto, Participants from Havoca: Embers, Tony Demoncy, David ID, My Brain in A Jar, Stephen
---
"This project deftly tackles societal struggles with accessible animation. It is spearheaded by Edane, who brings lived experience, respect, modesty and remarkable lightness to her important social and artistic mission. This is precious work." Adam Swayne, Deputy Head of RNCM Keyboard Studies
"NG threaded her way through evocative and emotional pieces with intelligence and great feeling. Music to touch the soul, indeed." Darlington & Stockton Times
Kindly funded by RNCM Creative Innovators Award and Manchester International Festival Sounds.