what's on
Concert: Illuminate Women's Music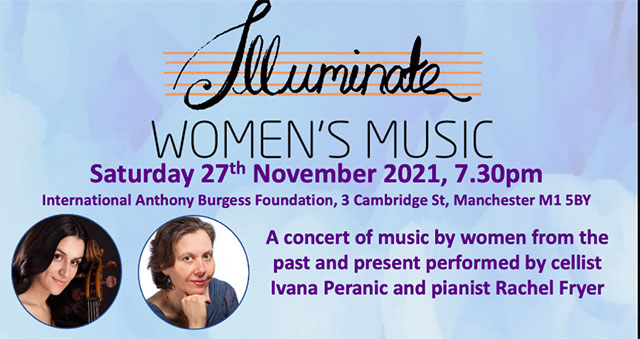 Illuminate Women's Music is an organisation dedicated to the promotion of music, both historical and contemporary, composed by women. Illuminate also supports talented female performers, giving repeat performance opportunities across the UK.
In today's concert you will hear works commissioned by Illuminate from composers Sarah Westwood, Michele Abondano, Chloe Knibbs, Carmen Ho, and Hayley Jenkins, alongside works by Blair Boyd and Angela Elizabeth Slater and historical works by Amy Beach and Rebecca Clarke.
Performers: Ivana Peranic (cello) and Rachel Fryer (piano)
PROGRAMME
Sarah Westwood – SUTURE for solo cello and live electronic*
Hayley Jenkins Partition for cello and piano*
Amy Beach – Berceuse for cello and piano
Blair Boyd – Slowly Tilting, Sinking for solo piano
Rebecca Clarke Epilogue for cello and piano
INTERVAL
Michele Abondano- suelo seco for amplified cello and piano*
Rebecca Clarke Impetuso for cello and piano
Angela Elizabeth Slater Woven half dreams for solo cello
Chloe Knibbs – Ravelled for cello and piano*
Carmen Ho – Ripple for cello and piano*
*Illuminate Women's Music Commissions
We encourage our audience to wear masks in the venue and during the concert.