what's on
Concert: Kantos Chamber Choir – Seven Deadly Sins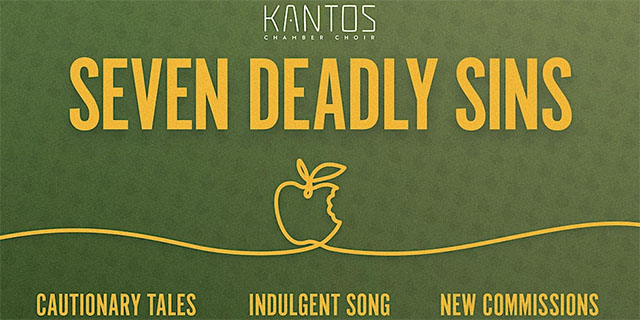 Every saint has a past, every sinner has a future.
Join Kantos for a sumptuous feast of musical transgression, choral indulgence, and heart-wrenching pleas for forgiveness with Frank Martin's Mass for Double Choir.
The performance will feature world premieres from up-and-coming RNCM student composers Sophie Nolan and Alex Watson, and hair-raising cautionary tales that will make you think twice about straying from the straight and narrow…
Doors 7pm  |  Performance 7.30pm
The tickets for this performance operate on a Pay What You Can basis; you choose the ticket band that you are able or happy to pay for.
---
The music:
Frank Martin – Mass for Double Choir: Kyrie Eleison & Agnus Dei
Maurice Ravel – Nicolette
Francis Poulenc – Quatre Motets pour un Temps de Pénitence
Pierre Passereau – Il est Bel et Bon
Mélanie Bonis – Ave Verum
Alex Watson – On Envy
Olivier Messiaen – O Sacrum Convivium
Camille Saint-Saëns – Calme des Nuits
Claude Debussy – Quant j'ai ouy le tabourin
Orlando di Lasso – Il estoit une religieuse
Igor Stravinsky – Ave Maria & Pater Noster
Claude Debussy – Dieu! qu'il la fait bon regarder!
Orlando di Lasso – Timor et Tremor
Sophie Nolan – Ira Vos Totos Consumet
Guest artists:
Sophie Nolan – Composer (RNCM student commission)
Alex Watson – Composer (RNCM student commission)