what's on
Concert: Manchester Psych Fest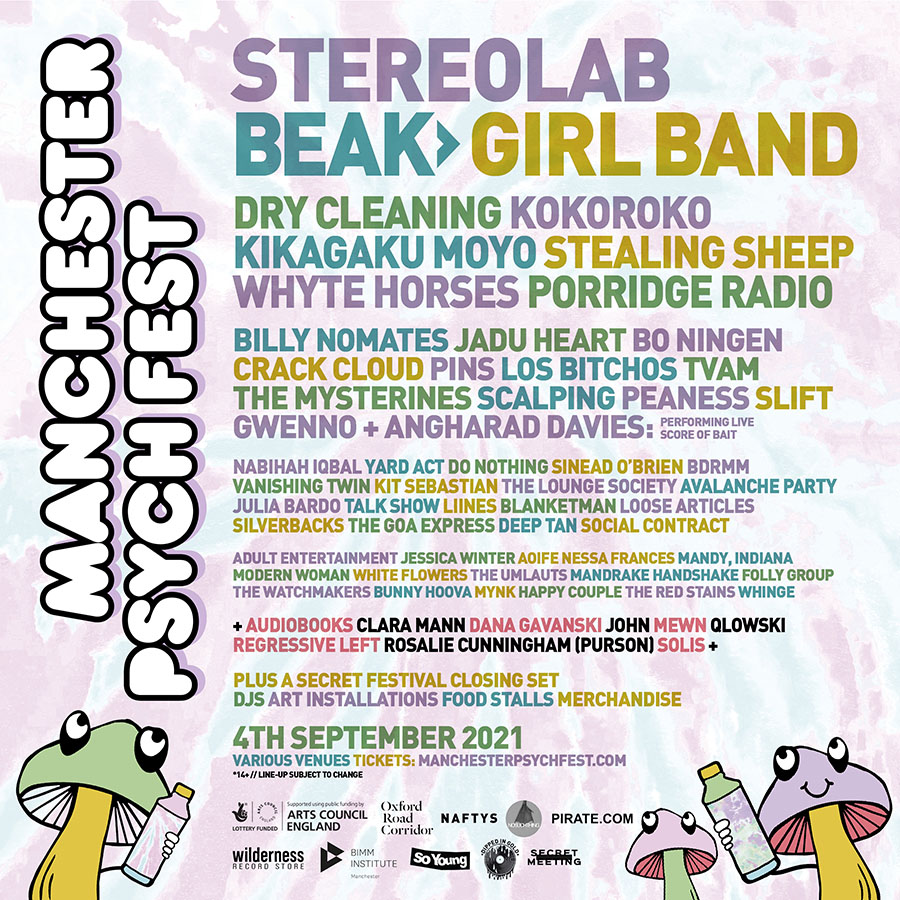 Live music line-up:
Stereolab | Beak> | Girl Band | Dry Cleaning | Kokoroko | Kikagaku Moyo | Stealing Sheep | Whyte Horses | Porridge Radio | Billy Nomates | Jadu Heart | Bo Ningen | Crack Cloud | Pins | Los Bitchos | Tvam | The Mysterines | Scalping | Peaness | Slift | Gwenno + Angharad Davies: live score of Bait | Nabihah Iqbal | Yard Act | Do Nothing | Sinead O'brien | Bdrmm | Vanishing Twin | Kit Sebastian | The Lounge Society | Skullcrusher | Avalanche Party | Julia Bardo | Talk Show | Liines | Blanketman | Loose Articles | Silverbacks | The Goa Express | Social Contract | Deep Tan | Adult Entertainment | Jessica Winter | Aoife Nessa Frances | Mandy, Indiana | Modern Woman | The Umlauts | Mandrake Handshake | Folly Group | The Watchmakers | Bunny Hoova | Mynk | Happy Couple | The Red Stains | Whinge | plus Audiobooks, Dava Gavanski, John, Regressive Left, Rosalie Cunningham (Purson), Solis and a secret festival closing set
Venues:
Multi-venue festival at o2 Ritz, Gorilla, YES, Deaf Institute, Night People, Factory251, Anthony Burgess Foundation & Hatch. Ticket gains access to all venues.
Art:
Exhibitions and visuals present by Mike.Sian Studio, Naftys, Raissa Paradini, Jane Bowyer, Sarah Cliff & MOZE.
DJs:
Abigail Ward | Acid Child DJ Set | All Hands on Deck | Astral Elevator | The Beat Chics// Hannah O Gorman | Hot Singles Club | Jeff O'Toole | Jess Rose | Léna C | Maracuya (Not Bad for a Girl) | Me Gusta | Mera Bhai | PINS DJ Set | Posion Ivy | Pussy Stamina | DJ Polly | Remake Remodel | Shell Zenner | So Young DJs | Whirlfuzzd
Food stalls:
Street food will be available across the festival catering for all dietary requirements.
Tickets:
Tickets are priced from £50 but will rise as the festival gets closer. Wristband Exchange x Mpf Art Gallery at 2nd Floor, 86 Princess St, Manchester M1 6NP. Features art installations & exhibitions / bar / food / DJs / hang-out. Tickets holders need to come here to exchange their tickets for a wristband which will gain you access to all 7 stages (5 venues). Tickets will be scanned so e-tickets or pdf downloads on your smart phone will suffice.
Covid:
Organisers and venues are working together closely to ensure the festival is an enjoyable, COVID-safe environment for artists, fans and staff, and will publish guidance for attendees within the couple of weeks. Manchester Psych Fest encourages attendees to get vaccinated if they can and test regularly to help us create a safe festival for everybody.
Ages:
14+. Please note YES & Night People will be 18+ only. Gorilla will be 18+ from 11pm, 14+ before.
Getting to the festival:
The festival is spread across o2 Ritz, Gorilla, YES, Deaf Institute, Night People, Factory, Anthony Burgess Foundation & Hatch. Your wristband gains access to all stages. All venues are accessible by road, with train stations and tram stops nearby.