what's on
Concert: No Dice Collective perform Anthony Burgess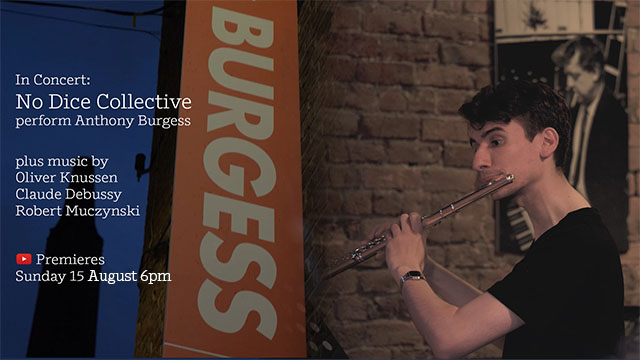 The International Anthony Burgess Foundation is delighted to present No Dice Collective in a special concert of music by Anthony Burgess, Oliver Knussen, Claude Debussy and Robert Muczynski.
This chamber ensemble programme showcases works for flute and piano, and includes one of Burgess's earliest complete chamber works, Concerto for Flute, Strings and Piano in D Minor (1951), here recorded for the first time.
The concert will stream on YouTube at 6pm on Sunday 15 August 2021. Watch below, or stream here. The broadcast can be watched on our YouTube channel afterwards.
Founded in 2015, No Dice Collective commissions and performs modern classical music in Manchester. See more here: https://nodicecollective.com/
Programme:
1. Anthony Burgess, Concerto for Flute, Strings and Piano in D Minor (1951)
2, Claude Debussy, Syrinx (1913)
3. Oliver Knussen, Prayer Bell Sketch (1997-98)
4. Robert Muczynski, Three Preludes (1962)
5. Anthony Burgess, Quartet for Flute, Oboe, Cello and Piano (1990)