what's on
Concert: Ollie West + Norrisette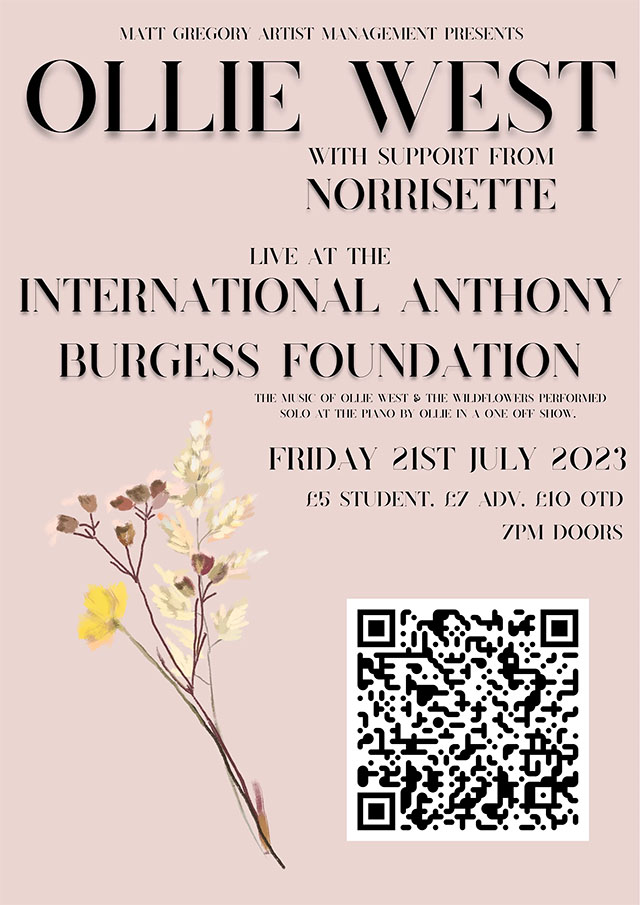 Matt Gregory Artist Management presents: Ollie West
Pianist and singer-songwriter Ollie West performs the music of Ollie West & The Wildflowers solo at the piano for a special one off concert not to be missed. Support provided by Norrisette.
About Ollie West:
The music of Manchester based pianist and singer-songwriter Ollie West has shifted dramatically since his formative years playing at open mic nights aged 14. Ask Ollie where his music sits genre-wise and he'll probably say "piano-driven folk-rock", but really this is only scratching the surface. Kick started by trying to replicate Billy Joel's seminal hit "Scenes From An Italian Restaurant" as a 14 year old re-discovering his love of the piano, Ollie's passion for writing has seen his music explore jazz, folk, pop, rock, prog and even classical music to create a truly unique sound that is unequivocally "Ollie West" by nature. Joined by long time band members Ashley Garrod, Pete Leaver and James Cooke, this year the band welcome tenor horn, keyboard player and vocalist Nat Martin, and violinist/vocalist Aninka Nesporova to the fold to form the all new 'Ollie West & The Wildflowers'.
This band isn't your standard outfit; their diversity shows in their career to date. Their debut album "Time Stood Still" from 2019 took the band through England, Scotland and Wales on a 16 date tour that included sell out shows in Manchester, London and the Wirral. The success of single "Home" from that record saw them become Angellica Bell's "Young Artist Of The Week" on classical music station Scala Radio, with subsequent plays on the station from Bell, Simon Mayo and Sam Hughes. Despite a global pandemic that halted their plans, the band still managed to release prolifically throughout 2020 and 2021, which included one of their most popular songs to date, "Shelf Life".
But that's enough of the past. Whilst every band might tell you their new music is "their best yet", no one means it more than Ollie West & The Wildflowers. Ten years of preparation have led to their upcoming releases, recorded at the Big Red Studios in Macclesfield with a new producer, new approach and a brand new sound. These guys are ready to take the UK music scene by storm; are you ready to welcome them?
About Norrisette:
Norrisette is a hyperpop / artpop artist who makes music and videos in her tiny flat in Manchester. Her first live gig was at Deaf Institute supporting Sylvette on the 23rd September 2021. Just ten months later, she performed a solo set on the Nebula Stage at Bluedot Festival under the gaze of the Jodrell Bank radio telescope, which she accidentally cosplayed as.
Together with Industries Norrisette set up FLUFF, a regular night for queer electronic music producers at Fuel, Withington. FLUFF has hosted the debut sets of many artists, has promoted at Sounds from the Other City Festival, and been mentioned in the Guardian for its role in the underground music scene in Manchester.