what's on
Concert: Sono Ensemble – Excuse my French!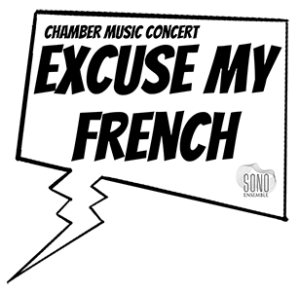 There are many stereotypes surrounding French culture, and music is one of them! In this chamber music concert, the SONO ensemble will try to break the common belief that French music is best performed by French musicians.
The SONO ensemble is led by Lithuanian musicians. When we finally settled on this programme, the Francaix string trio, being such a fun piece, inspired the tone of the whole concert. Therefore, the name 'excuse my French' is a satirical approach to a mainly serious program.
Even though music is considered a universal language, we must admit that every culture has its own unique musical language, and while it is admirable when someone masters foreign languages, the truth is that there is always space for error in the process. None of the ensemble are French but we do enjoy performing French music. So here is our take on it, and even though there is a possibility that our approach for some will come across as flawed, we can always say 'excuse my French!'
Experience the best of France performed by the SONO ensemble at the International Anthony Burgess Foundation. Tickets here.
The SONO ensemble comprises classically-trained musicians, all of whom have graduated with the highest honours from world-renowned conservatoires around the UK. The ensemble formed when Gunda Baranauskaite and Ugnius Pauliukonis, a pair of Lithuanian musicians based in Manchester, UK, found themselves searching for ways to resurrect something that in the very recent past was a part of their existence and more than just a craft. For more information, visit www.sonoensemble.com