what's on
Concert: square ears records SQE001 launch party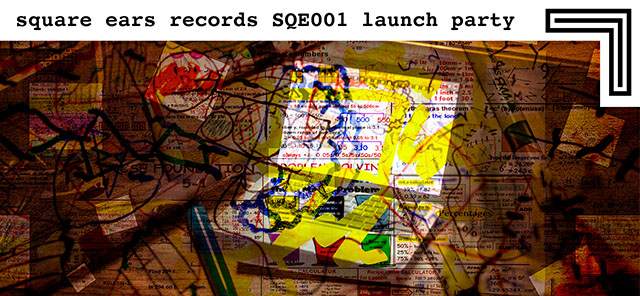 Launch party for David Curington's "mind maps" (SQE001) out 3rd December, plus special guests.
David Curington: mind maps (SQE001) + abstract photography
David Curington is an ambient noise artist and abstract photographer based in Manchester, UK, who adopts similar aesthetics and processes for creating densely layered and immersive textures in both disciplines. Trained as a classical composer and oboist, he obtained a PhD in composition from the Royal Northern College of Music and his interests to date have included noise, improvisation, failure, complexity, iterative processes, non-linear modes of listening, abstract expressionism and reconceptualising the oboe. His music has been featured on Freeness on BBC Radio 3 and he is a former winner of the RPS Composition Prize.
David Birchall + Richard Harrison + Michael Perrett (7-7.30PM)
David Birchall is a performer living in Manchester. He loves to improvise live and compose recordings. He has performed in the UK, Europe, Russia, Palestine, USA & Japan. He has undertaken artist residencies at The Penthouse (Manchester, UK) and Beppu Project (Beppu, JP). His work has been broadcast on BBC Radio 1, BBC Radio 3, BBC Radio 6 Music & SWR in Germany.
Richard Harrison is a free improviser active since the 70s whose list of collaborators and bands he has played in include Derek Bailey (in Company Week), Nico from the Velvet Underground, Dislocation Dance, God is my Co-Pilot, The Honkies, Graham Massey's Toolshed, Paddy Steer's Homelife and Spaceheads (with trumpeter Andy Diagram). Alongside band projects and his free improvisation based in Manchester and London, Richard has an ongoing project of making field recordings of wire fences whilst singing harmonics on his brother-in-law's farm in Scotland.
Michael Perrett is an improvising clarinettist and composer based in Manchester. He studied clarinet and composition at the RNCM. As a composer, he has written for EXAUDI and The House of Bedlam and his music has been performed internationally and broadcast on BBC Radio 3. As an improvisor he has collaborated with Otto Willberg, Sam Weaver, Ilan Volkov, Ecka Mordecai, Mark Hanslip and Dave Birchall. He is in the band Graham Llewellyn with the keyboardist/ composer Lawrence Dunn and the guitarist/ epicure Dave Bainbridge. He has twice been shortlisted for the Observer/ Anthony Burgess Prize for Arts Journalism.
CHAINES + Lottie Sadd (8-8.30PM)
CHAINES (Cee Haines, they/them) is a composer, multi-instrumentalist and multimedia artist based in Manchester UK, who writes surreal and fantastical electronica and electro-acoustic music. In June 2019 they won an Oram award from the PRS Foundation and BBC New Radiophonic workshop for innovation in music, sound and related technologies. Their album, 'The King', was received with enthusiastic critical praise; it was ranked in FACT magazine's top 25 albums of 2018's first quarter, was made Boomkat's album of the week, and Robert Barry of The Wire called it 'vast in scope, rich in execution'. Their live performance has been called 'a mesmeric collage of ecclesiastical beauty and creeping dread' by the Guardian.
As of 2021, Cee lectures in Sound Art and Composition with Technology (SCoWT) at the Royal Nothern College of Music (Manchester, UK).
Lottie Sadd (she/her) is a Leeds-based interdisciplinary composer and artist creating immersive performances and installations. Informed by ideas of ritual and traditional Eastern aesthetics, her practice centres on ideas of 'Process'. She's particularly interested in highlighting the art and power inherent within the processes of creation themselves. Through themes of 'Becoming' and 'Interconnectedness' – via forms of improvisation, field-recordings, and text – her work invites audiences outside the traditional object-centric experience and into these dynamic processes.
Lottie has exhibited work with CAVE (Centre for Audio Visual Experimentation), East Street Arts (2019), and Open Source Arts (2020). In 2017, she was awarded the prestigious Berkofsky Award for the installation Room for Thought (furniture music) (2016-7), becoming the first composer to have won the prize. She graduated with an MMus in Critical and Experimental Composition led by Scott McLaughlin and Mic Spencer at the University of Leeds. In 2020, she was selected for Yorkshire Sound Women Network's 'Sound Pioneers' programme for which she's devising a large-scale multichannel work for Huddersfield Contemporary Music Festival 2021.