what's on
Concert: The Apex Singers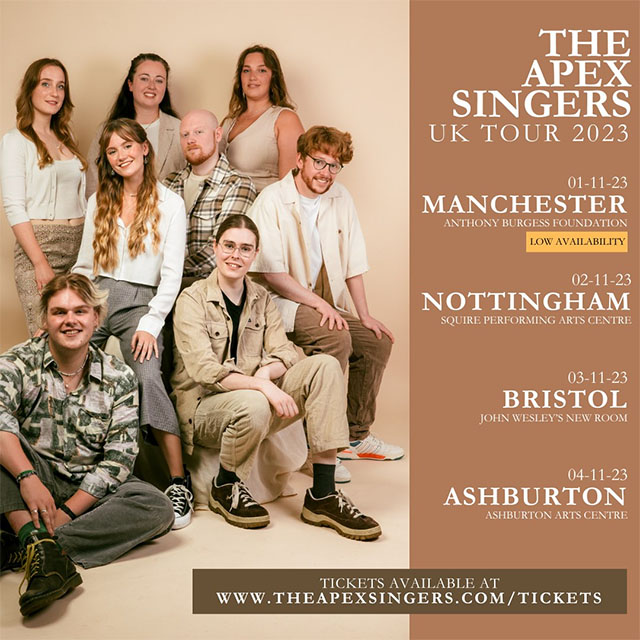 Adding to their accolades, The Apex Singers' live performance of "Wild Mountain Thyme" at Hallé St Michael's earned them "Oustanding Live Video" at the A Cappella Video Awards 2023. Their studio albums, "Hiraeth" (2020) and "Stravaig" (2022), have garnered critical acclaim, including two Contemporary A Cappella Recording Awards and Simon Mayo's Album of the Week on Scala Radio. These exceptional arrangements have also been performed by renowned ensembles around the globe, including The Vancouver Youth Choir (Canada), Exaudi Youth Choir (Australia), UW Harmonists (Germany), Ardú (Ireland), and Mannskoret Arme Riddere (Norway).
"Stunning – I love everything they do" – Simon Mayo, Scala Radio
"Crystal clear melodies and flowing, inventive harmonies are this ensemble's trademarks" – Matthew Dougall, Number 9 Reviews
With thanks to Help Musicians and Arts Council England.
---
Scratch Choir Workshop :
Whether you're a seasoned vocalist or simply love to sing in the shower, this is your opportunity to be part of a brilliant choir without the long-term commitment. Under the expert guidance of The Apex Singers, you'll embark on a thrilling vocal workshop, joining members of the group and other like-minded vocalists as you delve into the art of ensemble a cappella singing.
Don't miss your chance to be a part of something extraordinary. Reserve your spot now and unlock the magic of choral artistry with The Apex Singers Scratch Choir Workshop!
To book a place on the workshop, select a ticket with the '+workshop'. Note this workshop will take place pre-show and run from 5pm – 6.30pm