what's on
Concert: Timothy Parker-Langston and Ewan Gilford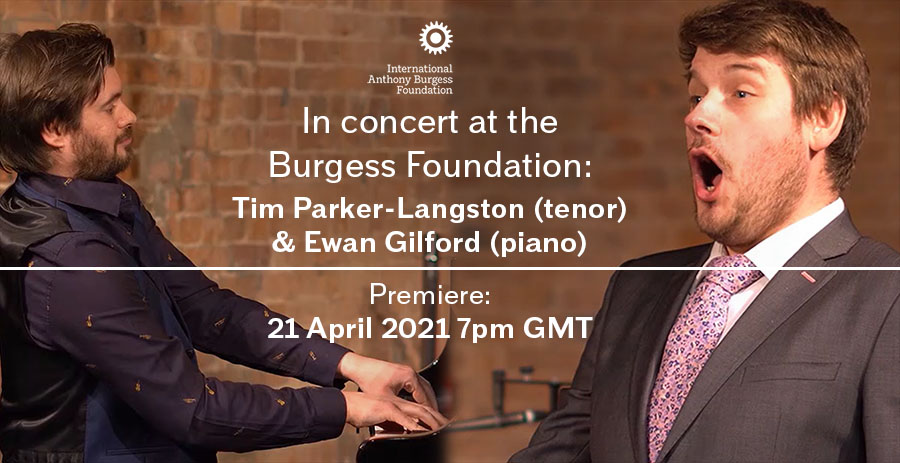 Timothy Parker-Langston and Ewan Gilford present a special recital of music for tenor and piano at the International Anthony Burgess Foundation.
'I was slooshying more like malenky romantic songs, what they call Lieder, just a goloss and a piano, very quiet and like yearny, different from when it had been all bolshy orchestras and lying on the bed between the violins and the trombones and kettledrums.' Anthony Burgess, A Clockwork Orange
The recital includes rare performances of Burgess's own settings of verse by Shakespeare and Gabriele d'Annunzio, and the world premieres of two works by Anthony Burgess: 'E chi ci pensa?' and 'Vecchio Paese'.
As with our previous concert with Richard Casey, the concert stars Anthony Burgess's own Bosendorfer piano. It will be broadcast from the Burgess Foundation at 7pm GMT on 21 April 2021: watch on YouTube, or in the video below. If you're busy then, then tune into our rescreening at 8pm on our Facebook page.
The concert will be free to view: no tickets required, although you can use the YouTube page to set yourself a reminder.
Programme:
00:50: Robert Schumann, Liederkreis, op.24 (nos. 1 to 5)
11:51: Anthony Burgess, Three Shakespeare Songs, 1. 'Under the Greenwood Tree'
14:34: Anthony Burgess, 2. 'Apemantus's Grace'
15:45: Anthony Burgess, 3. 'Come, Thou Monarch of the Vine…'
16:22: Ludwig van Beethoven, 'Resignation' ('Lisch aus, mein Licht'), WoO 149
19:45: Ludwig van Beethoven, 'Ich liebe dich', WoO 123
21:54: Benjamin Britten, Seven Sonnets of Michaelangelo, 'Sonnet XXIV'
26:52: Anthony Burgess, 'La pioggia nel pineto'
38:04: Robert Schumann, Liederkreis, op.24, (nos. 6 and 9)
44:08: Anthony Burgess, 'E chi ci pensa?'
47:17: Anthony Burgess, 'Vecchio Paese'