what's on
Concert: UnHeard Hybrid Orchestra Present [Un]Quote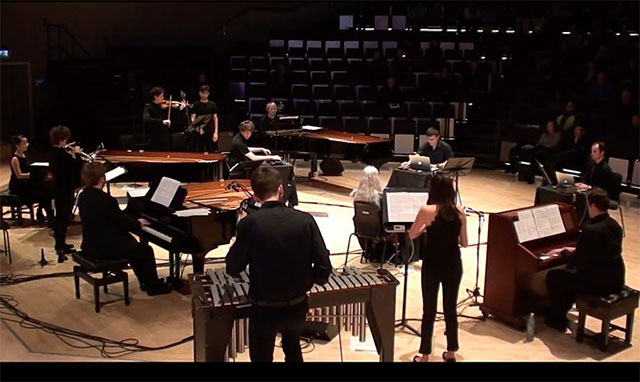 The UnHeard Hybrid Orchestra are proud to present [UN]QUOTE, an audio-visual event in which we continue to bring distant styles, methods and musics together — juxtaposing art music with elements from pop culture, folk traditions, dance music and more.
Bringing together influences as diverse as jazz, Greek folk music, ambient techno, brutalist architecture and Bach; in this concert our hybrid group of chamber ensemble with electronic elements will present pieces from six acclaimed Manchester composers, executed by a group of sixteen outstanding musicians from a range of disciplines, conducted by Omer Shteinhart.
In the intimate setting of the International Anthony Burgess Foundation, you will experience works which each respond to the theme of memory and quotation -– with each composer choosing their own evocative source of nostalgia from pop, retro or folk culture sources, and using it as a springboard to create something entirely their own, and entirely new. Each piece will form a dream-like expression of what a certain song, place or artefact has meant in the composer's own life, and the use of musical quotations will only heighten this beautiful sense of the uncanny, seeping through layers of time and memory.
The composers: Simon Knighton, Athanasia Kontou, Robert Laidlow, Zakiya Leeming, Bofan Ma and Tywi John Hywel Roberts; have all arranged their works specially for this unique setting and unique configuration of instruments. With the audience in the centre and the performers flanking either side of the venue, this is sure to be a moving event which will create special new memories from collective old memories.