what's on
Concert: Unlocked Live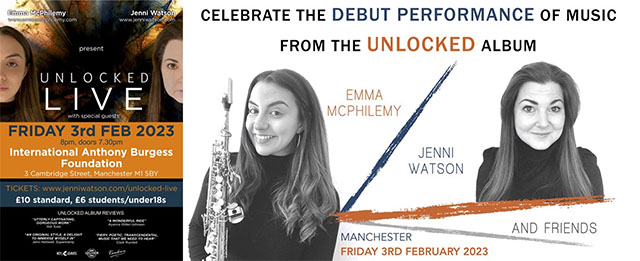 Emma McPhilemy & Jenni Watson are delighted to present music from their debut album Unlocked.
The pair push the limits of the classical saxophone genre through drawing on their diverse musical experiences, whilst respecting the legacy of the instrument.
Unlocked is a series of original works by Jenni in new guises, plus collaboratively conceived music from the duo, which evolved from their popular online challenge series #lockthesaxdown.
With virtuosic saxophone technique and weaving layers of strings, wind, pianos & electronics, they create a joyful experience of journeying moods and styles that include improvisational elements, and vary from folk to classical, ambient to minimalism.
Doors 7.30pm  |  Concert 8pm
Unlocked album reviews
"Jenni's compositions and Emma's playing carve a singular path through musical clichés, and together they produce sounds that, although perhaps influenced by many genres, forge an original style with no specific allegiance to convention. I found this album a delight to immerse myself in." John Helliwell – Supertramp"
"Unlocked is incredibly beautiful!!! Wow! So rich with textures and melodies, what a wonderful ride." Ayanna Witter-Johnson
"What an utterly captivating gorgeous work." Will Todd
"What an achievement from these two brilliant young artists. Fiery, poetic, transcendental… It's really music that we need to hear, music that's very, very appropriate for this time in human history." Clark Rundell