what's on
Conference: LNY x MCR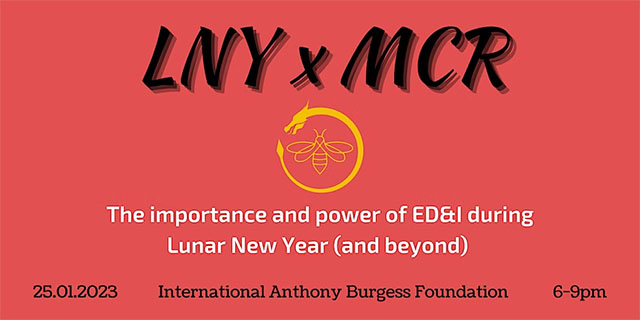 LNY x MCR: The importance and power of ED&I during Lunar New Year
Three years ago, Lunar New Year took place just before the start of the pandemic and what should have been a happy time for many was marred by negativity. Bigotry, naivety and racism reared their ugly heads and continued to do so in the following years. But what many people from the ESEA (East and Southeast Asian) community found was that support from others was few and far between, least of all from their workplaces.
Furthermore, we have found that for some companies, Lunar New Year is either just a time for a token gesture – a quick social media post – or a time to cash in and reap the millions of pounds spent by ESEA people during this important festival with little to no thought for the communities they are profiting from.
And in those last three years, many of us within the ESEA community across the UK have stood up and spoken up to fight the discrimination, fight the stereotypes and beliefs people hold against us and fight against the status quo. But we can't and shouldn't have to do it all ourselves. We need others like you to understand and be on board. We need people like you within your organisations – no matter your role, what kind of company it is and no matter its size and ethnic makeup – and outside of your working life, to listen to us, help us, support us and include us.
Join some of us from the ESEA community in Greater Manchester at the International Anthony Burgess Foundation as we look to help organisations better support and include their ESEA colleagues – not just during Lunar New Year, but throughout the rest of the year too, understand why Lunar New Year is such an important time for so many diverse groups of people and how they can improve and diversify their strategies, be it ED&I (Equity, Diversity and Inclusion), marketing or talent acquisition, to include ESEA people.
Food and beverage from across the ESEA region by local caterers will be served, including Malaysian/Filipino café Yes Lah, Vietnamese restaurant Mi and Pho, nationwide chain Rosa's Thai, hip British Chinese eatery WowYauChow and independent pan-ESEA foodie Nok's Wok.
There will also be a raffle to win some great prizes with donations going towards On Your Side, a UK-wide support and reporting service for anyone in the UK who identifies as East and Southeast Asian who has experienced racism or any forms of hate. Prizes so far include prints by world-renowned Manchester-based illustrator Stanley Chow, signed books by award-winning children's author Sue Cheung, a book about Britain's first ever professional footballer of Chinese heritage Frank Soo from The Frank Soo Foundation, an OPPO tablet and much more!
Speakers:
Choon Young Tan – Choon is the Content Marketer for Culture Shift, a tech for good organisation that aims to help organisations tackle incidents of bullying, discrimination and harassment, help change their workplace culture and empower employees to speak up. Outside of work Choon, who is British-born Malaysian Chinese, continues to champion ED&I causes with particular focuses on fighting against ESEA discrimination and for ESEA representation in literature and the media.
He also writes his own personal blog that has gained more than 50,000 views in less than five years, Tan's Topics, which often covers these very issues. At this event Choon will talk about what Sinophobia is and debunking the "model minority myth".
Nok Vickers – Nok is the Inclusion & Diversity Officer at North Yorkshire County Council where she is responsible for internal workforce and employee EDI. At this event she will be talking about how to create an inclusive culture for ESEA colleagues at Lunar New Year and beyond.
Nok is British born, half-English and half-Laotian, and grew up for the most part in York apart from 3 years she spent in Northern China as a child. She studied Chinese Language and Culture at SOAS and spent a year at Beijing Normal University. You can also find her sharing tasty ESEA vegetarian recipes on her Instagram page @nokswok.