what's on
Literature: Alicia J Rouverol – Dry River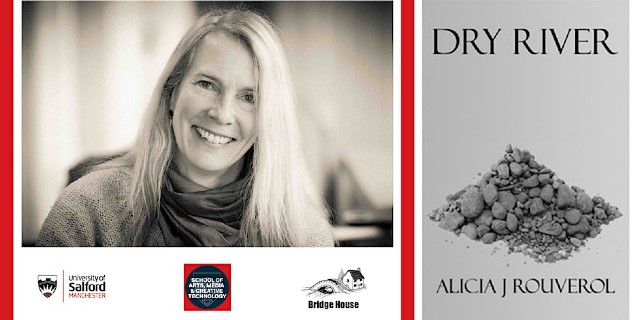 Join novelist and lecturer Alicia J Rouverol for a reading of her new novel, Dry River.
Sara Greystone's career as a public defender is spiraling after a disastrous court case: an African American woman has been charged with assault for fighting back against her abuser, a white man, and Sara makes the risky decision to put them on trial in defence of their mother—resulting in deleterious effects for all. A move to California is supposed to get her and her IT consultant husband both back on their feet, but the state is in the midst of a crippling economic downturn. Spanning 1997 to 2012, Dry River echoes Wallace Stegner's classic Angle of Repose, moving across place and time to chart the slow collapse of a marriage alongside a declining US economy.
Presented in partnership with School of Arts, Media and Creative Technology at the University of Salford and Bridge House Publishing. Hosted by publisher Gill James.
This is a free event but please register your attendance via Eventbrite.
Alicia J Rouverol is Lecturer in Creative Writing at the University of Salford. She is co-author of "I Was Content and Not Content": The Story of Linda Lord and the Closing of Penobscot Poultry.
Dry River is 'a stunning, intricate novel of one woman's transformation as she juggles family and career during the turmoil of the global financial crisis, [featuring] elegant prose, a deeply felt sense of place, and an emotional intelligence reminiscent of Anne Lamott and Elizabeth Strout…' (Barbara Barrow, The Quelling and An Unclean Place).
Author photo: Paul Cliff
Cover design © Andy Broadey