what's on
Literature: Book launch – Beard's Roman Women and Puma by Anthony Burgess
Thu 08 Nov 2018
6:00 pm
Free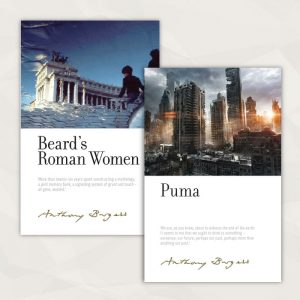 Join us to celebrate the launch of two new volumes of the Irwell Edition of the Works of Anthony Burgess, a scholarly collection of the Manchester author's entire canon. We're putting on a wine reception, and you will get to meet the editors and hear more about this fascinating project.
Taking in Rome, New York, Los Angeles, Sydney, and Hammersmith, steeped in Rabelais, Shakespeare, Belli and Dryden, Beard's Roman Women and Puma reveal Burgess's wide-ranging inspirations and his ability to traverse many different literary genres and styles.
Beard's Roman Women, edited by Graham Foster, tells the story of Ronald Beard, screenwriter and widower, adrift among the ancient ruins of a purgatorial Rome. There he finds a new love, only to be interrupted by the old in the form of ghostly phone-calls from the wife he thought was gone. The text is illustrated by David Robinson's surreal photographs of Rome, which highlight the collision of the fashionable Via Veneto and the ancient mysteries of death and whatever comes after.
Puma, edited by Paul Wake, is Anthony Burgess's 'lost' science fiction novel. Disentangled from the three-part structure of The End of the World News and published for the first time in its intended format, Puma tells the story of a rogue planet on a collision course with a future Earth. It is a typically Burgessian novel, gloriously comic and steeped in the rich literary heritage of a world soon to be extinguished.
The Irwell Edition of the Works of Anthony Burgess is published by Manchester University Press. Representatives of the press will be in attendance at the launch, along with the editors of both volumes. The event is free but we encourage you to sign up here.