what's on
Literature: Burgess, Kubrick and A Clockwork Orange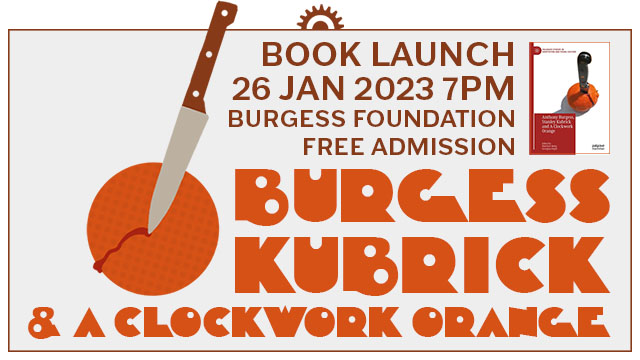 Join us for the launch of Anthony Burgess, Stanley Kubrick and A Clockwork Orange, a brand new book that draws on research undertaken at the International Anthony Burgess Foundation archives and the Stanley Kubrick Archive.
The book, edited by Matthew Melia and Georgina Orgill, foregrounds the Burgess-Kubrick relationship in the light of the controversial novel-turned-film, and offers a 21st century re-appraisal of A Clockwork Orange as an important 20th century cultural text.
When Anthony Burgess published A Clockwork Orange in 1962, the novel met with mixed reviews and slow sales. It was only after the US edition appeared that the book began to find popularity in the 1960s counterculture: William Burroughs and Andy Warhol were among its early advocates. Warhol and his associates at the Factory made a pirate film adaptation in 1965 called Vinyl, and there was talk of Mick Jagger and the Rolling Stones playing Alex and his droogs on the big screen.
Stanley Kubrick's 1972 film version of A Clockwork Orange provoked further mixed reactions. It was hailed as a masterpiece and accused of 'sucking up to thugs in the audience.' Burgess himself reviewed the movie warmly before changing his mind and denouncing it as a work of pornography. Despite rumours that it had caused violent crimes, the film found a large audience, not least in places such as Spain and Brazil, where it was initially banned.
This new book of essays on A Clockwork Orange will be celebrated with a launch at the Burgess Foundation in Manchester on 26 January 2023.  This will be a discussion event with the editors Georgina Orgill, keeper of the Stanley Kubrick Archive, and Matt Melia, who has researched in the Burgess archive. Other participants will include Jim Clarke, author of The Aesthetics of Anthony Burgess, and Dr Joseph Darlington.
Speakers (A-Z):
Joe Darlington  |  A writer from the Peak District. Head of Animation at Futureworks Media School. Author of The Girl Beneath the Ice (Northodox, 2022) and The Experimentalists (Bloomsbury, 2021). Contributed the chapter 'Architecture and Freedom in A Clockwork Orange' to Anthony Burgess, Stanley Kubrick and A Clockwork Orange.
Matthew Melia  | Senior lecturer in film, media and English literature at Kingston University, UK. Matt is co-editor of The Jaws Book: New Perspectives on the Classic Summer Blockbuster (2020) and a special edition of Historical Journal of Film, Radio and Television: '50 Years of A Clockwork Orange' (2022).
Sorcha Ní Fhlainn  |  Senior Lecturer in Film Studies and American Studies at Manchester Met. A background in history, politics and American studies, with a specialism in Gothic studies, horror cinema, vampires and monsters. A huge music fan with eclectic taste from Irish traditional fusion to classic rock (and hair/heavy metal), with a particular love of all things rooted in the 1980s, including its music and film scores.
Georgina Orgill  | Stanley Kubrick Archivist at University of the Arts London, UK, responsible for managing the Stanley Kubrick Archive. Georgina is a qualified archivist with an MA in Archives and Records Management.
More speakers to be announced.
We hope that you can join the debate. As Alex himself says in the book: 'Hear angel trumpets and devil trombones. You are invited.'