what's on
Literature: Graham Greene and the Spies

We are delighted to welcome the biographer and poet Richard Greene to give the 2020 Anthony Burgess Lecture, titled 'Graham Greene and the Spies'.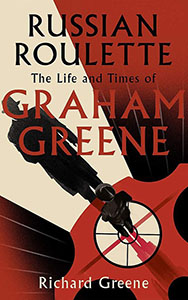 Richard is an award-winning poet, editor and biographer, and is a professor of English at the University of Toronto. His latest book is an acclaimed new biography of Graham Greene, Russian Roulette: The Life and Times of Graham Greene. Published earlier this year, his accessible and humane study draws on newly-discovered archive material and interviews which cast new light on this contradictory, secretive and complex writer.
Graham Greene and Anthony Burgess had a long relationship. Returning from Kuala Lumpur by plane, Burgess first met Greene in 1957 in London, and presented him with a gift of a bundle of silk shirts sent by a mutual  friend, Trevor Wilson. Burgess  wrote: 'a rumour was later put about that the silk shirts had opium pellets sewn into the cuffs, but this was not, I think, true.'
Their association continued, and Burgess wrote many favourable reviews of Greene's novels and journal articles about his work. After Burgess moved to Monaco in the 1970s, it was a short journey to Greene's home in Antibes.
Their friendship came to an end in 1988 following comments made by Burgess on the French television programme Apostrophes about Graham Greene's age (which Burgess misrepresented as 86 rather than 83) and about his correspondence with the spy and defector, Kim Philby.
Greene  wrote to Burgess to tell him that he was 'either a liar or […] unbalanced and should see a doctor.' But Burgess managed to have the last word in 1991, writing a spiky obituary and a memoir, both of which appeared in the Daily Telegraph on the same day, and also appearing on Newsnight to talk about hos posterity would remember Greene (see newspaper image below).
Richard Greene (no relation) takes Kim Philby as his starting point, and his lecture explores the story of Graham Greene's involvement with MI6 during the Second World War. Greene worked in Sierra Leone and later on the Iberian desk in St Albans, taking direction from the intelligence chief Philby. Later, after it was established that Philby was a Soviet agent who resurfaced in Moscow in 1963, they resumed their peculiar friendship. Richard examines Greene's extraordinary sympathy for Philby, and how this influenced Greene's later fiction.
Richard's lecture will be broadcast on 3 December 2020 at 7pm UK time. You can watch the lecture on YouTube or view it below. The event will also be broadcast on Facebook.
---
---