what's on
Literature: Mancaster Rocks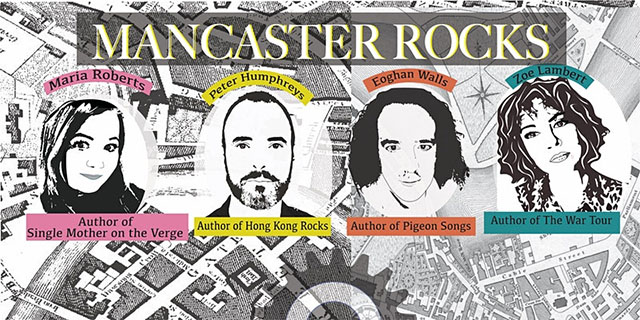 Separated by the pandemic and having lost the will to Zoom, MANCASTER ROCKS celebrates the coming together of four distinct voices from Lancaster and Manchester who will read from their work and share their wares before joining you at the bar.
Whether you fancy a tipple or not, this free event offers the perfect opportunity for authors and poets, at whatever stage in their careers, to mingle and discuss their recent writing experiences with fellow scribes and word-hungry readers.
A table will be set aside for book sales, so if you would like to make your work available on the night please contact the organisers via mancasterrocks@gmail.com
Introducing the readers:
PETER HUMPHREYS lived in Hong Kong for six years and his timely novel Hong Kong Rocks, which was shortlisted for the Proverse Prize, blends humour, adventure and insight into a page-turning literary thriller that 'spirals out of control like a Coen Brothers movie'. While studying Creative Writing at MMU he won the Dawson Jackson prize for student novelists. His short stories have been published by Cha: An Asian Literary Journal, Far Enough East and Comma Press, while a recent story, 'Justice', was longlisted for the 2021 BBC National Short Story Award. Peter's podcast, First Impressions, combines interviews with comedy and music and has been dubbed 'mad, funny and surreal.'
ZOE LAMBERT lectures in Creative Writing at Lancaster University, teaching undergrad and postgrad modules in the short story. Her collection of short stories, The War Tour was published in 2012 by Comma Press and was shortlisted for the Edge Hill Prize for short stories. One of the stories from that collection appeared in the Independent on Sunday. Zoe's short stories have been published in a number of Comma Press anthologies, the latest in Resist: Stories of Uprising, an anthology of stories based on real-life acts of resistance throughout history. She is currently exploring themes of caring and chronic illness in her work.
MARIA ROBERTS is a writer, magazine editor and journalist living in Manchester. She specialises in creative non-fiction, fiction, and the arts. Maria's award-winning blog Single Mother on the Verge was turned into a book of the same name by Penguin and she has written for numerous publications including Marie Claire, Elle, Cosmopolitan, The Times, and The Guardian. Maria has also contributed to discussions on family and women's issues on TV and radio, including BBC Radio 4's Woman's Hour. Her stories have appeared in numerous collections, including Comma Press's Bracket and Phobic anthologies.
EOGHAN WALLS is a poet and lecturer in Creative Writing at Lancaster University. He won an Eric Gregory Award for his poetry in 2006, and has been highly commended in many other prizes, including the Manchester Poetry Prize, The Bridport Prize, and the Wigtown International Poetry Prize. His first collection, The Salt Harvest (Seren, 2011) was shortlisted for the Rupert and Eithne Strong Award for Best First Collection. His second collection, Pigeon Songs, was published in 2019. In 2021, he published Thought Poems: A Translation of Heidegger's Verse.
Mancaster Rocks will also feature big-screen artwork and animations from ANA REBOLLEDO (@anita.burr on Instagram) and GARTH SIMMONS (author of Hole Punch, co-creator of the Semi podcast).
About the venue: Equipped with a licensed bar, The International Anthony Burgess Foundation encourages scholarly interest in the author as well as new literature events. It is located near Manchester's universities, just off Oxford Road at Engine House, Chorlton Mill, 3 Cambridge Street, Manchester, M1 5BY.
We look forward to welcoming you on the big night.