what's on
Literature: Michel Faber in conversation with Dave Haslam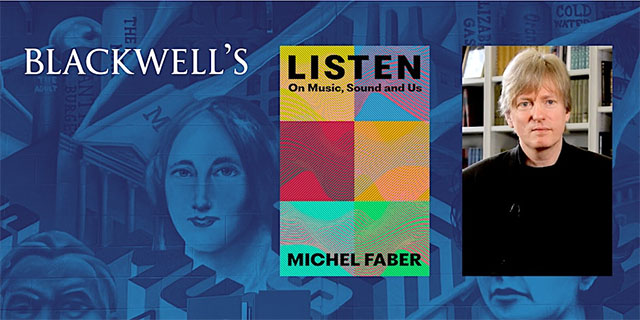 Blackwell's is absolutely thrilled to be welcoming award-winning author Michel Faber to Manchester to discuss his incredible new book Listen: On Music, Sound and Us — an enlightening and witty exploration into how and why we listen to music. Michel will be in conversation with Dave Haslam.
This event is being held at the International Anthony Burgess Foundation.
Doors: 18.00, event starts: 18.30
Tickets are £5.00 or free when pre-ordering a copy of the book. Listen will also be available to purchase on the night and Michel will be signing copies after the talk. If you would like a signed copy but cannot make the event, please contact us on 0161 274 3331 or manchester@blackwell.co.uk and we can arrange this for you.
About the book:
'I'm not here to change your mind about Dusty Springfield or Shostakovich or Tupac Shakur or synthpop. I'm here to change your mind about your mind.'
There are countless books on music with much analysis given to musicians, bands, eras and/or genres. But rarely does a book delve into what's going on inside us when we listen.
Michel Faber explores two big questions: how we listen to music and why we listen to music. To answer these he considers biology, age, illness, the notion of 'cool', commerce, the dichotomy between 'good' and 'bad' taste and, through extensive interviews with musicians, unlocks some surprising answers.
From the award-winning author of The Crimson Petal and the White and Under the Skin, this curious and celebratory book reflects Michel Faber's lifelong obsession with music of all kinds. Listen will change your relationship with the heard world.
About the author:
Michel Faber has written nine books. In addition to the Whitbread-shortlisted Under the Skin, he is the author of the highly acclaimed The Crimson Petal and the White, The Book of Strange New Things, which was shortlisted for the Arthur C. Clarke Award and won the 2015 Saltire Book of the Year, and most recently Undying, his first poetry collection. Born in Holland, brought up in Australia, he now lives in the UK.