what's on
Literature: Mozart and the Wolf Gang book launch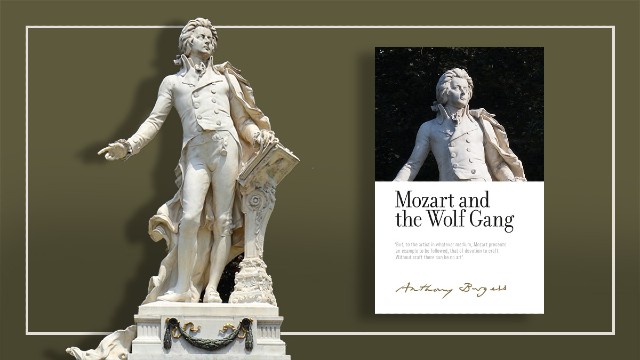 Join us for an evening of music and literature as we launch Anthony Burgess's Mozart and the Wolf Gang, the seventh volume in the ground-breaking Irwell Edition of the Works of Anthony Burgess.
Mozart and the Wolf Gang is one of Burgess's great works, often overlooked due to its experimental form, which nevertheless remains accessible, entertaining and yet refreshingly original to this day. It was written in 1991 to commemorate the bicentennial of Mozart's death.
This new critical edition includes analysis from the editor Alan Shockley, a noted musicologist and first-class literary critic, enabling the work's significance to be assessed by a new generation of readers and scholars.
As well as introducing you to the book, we will entertain you with a programme of musical works by the late Alan Shockley, featuring Richard Casey on piano and Jacob Lay on violin. The event will include a wine reception, in which we will raise a glass to Alan, a friend and supporter of the Anthony Burgess Foundation who sadly passed away in 2020.
Copies of the book will be on sale on the night. Full musical programme to be listed shortly. Tickets are free, with an optional donation to the Burgess Foundation.
About the book:
Mozart was the supreme musical genius whose work may be analysed by the expert without elucidating its true nature, and whose life has been presented so often, in book and in film, that it would be foolish to retell the story yet again.
Anthony Burgess's tribute has an ironic component. He sets his scene mostly in heaven, from which Saddam Hussein's guns can be faintly heard. He splits himself up into several warring personages, initiates discussions which get nowhere except a region where understanding of the nature of music (not just Mozart's) may conceivably begin to dawn. Mozart brings solace to our tattered lives but he also brings bewilderment.
This is, in fact, a kaleidoscope of a book, which goes beyond the bounds of even Anthony Burgess's fiction: in which an attempt to understand Mozart is made through celestial dialogue, a Stendhalian effort at turning Symphony No. 40 into fiction, an opera libretto, and fragments of a film script join with the author's own internal colloquies to answer the unanswerable. In effect, a gang of wolves is on the scent of the meaning of music.
Mozart and the Wolf Gang is Anthony Burgess's bicentennial tribute to the genius of Mozart. This critical edition includes an introduction and substantial annotations by Alan Shockley, who brings his expertise as a composer and musicologist to the role of editor. The text of Burgess's novel has been freshly edited from manuscripts. The appendices provide contextualising essays on music by Burgess, along with a selection of reviews from the novel's first publication in 1991.