what's on
Literature: Nat Ogle, Gurnaik Johal and Saba Sams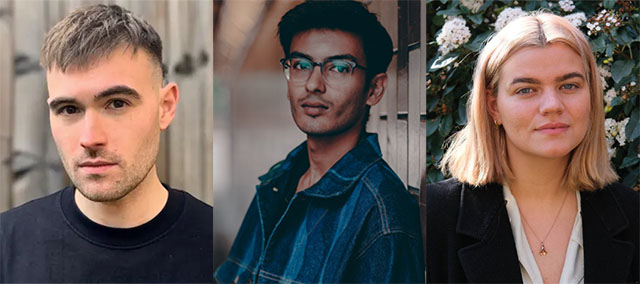 ---
UPDATE: Saba Sams and Luke Brown will no longer be at this event due to testing positive for COVID. Kaye Mitchell, Senior Lecturer in Contemporary Literature and Director of the Centre for New Writing, is stepping in to interview Nat Ogle, Gurnaik Johal in Like Brown's place. Thank you.
---
Join the Centre for New Writing for the latest event in the Literature Live series.
This event will welcome Nat Ogle, Gurnaik Johal and Saba Sams in conversation with author, Centre for New Writing lecturer and literary editor, Luke Brown.
Nat Ogle was born in 1991 and grew up in Darlington. His debut novel In the Seeing Hands of Others was published by Serpent's Tail in 2022. It is original and provocative fiction telling the story of a contentious trial, pieced together in documents from the accused and accuser. Nat works as a bookseller in London.
Gurnaik Johal is a writer from West London. He was shortlisted for The Guardian 4th Estate BAME Short Story Prize in 2018 and graduated from The University of Manchester in 2019. He works in children's publishing. Gurnaik's story collection We Move, centred around the Indian diaspora in West London, will be published by Serpent's Tail in April 2022.
Saba Sams is a fiction writer based in London. Her stories have appeared in The Stinging Fly and The Tangerine. She was shortlisted for The White Review Short Story Prize in 2019. Her debut collection of short stories SEND NUDES was published by Bloomsbury in 2022.
Everyone is welcome, and ticket prices include discounts at the Blackwell's bookstall. Please note that this event will take place at the International Anthony Burgess Foundation.
Gurnaik Johal image: Aashfaria. A. Anwar
Saba Sams image: Sophie Davidson