what's on
Literature: Northern Fiction Alliance / Publishers Association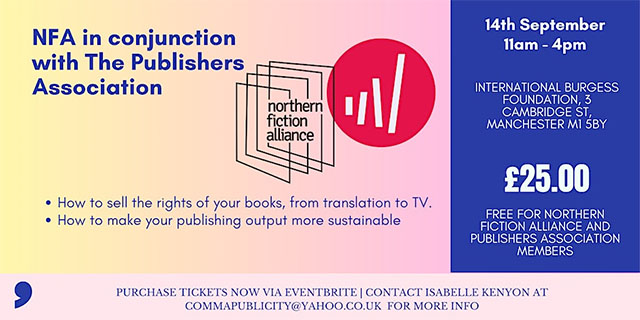 Comma Press is thrilled to announce a partnership with The Publishers Association to present an exclusive series of translation and subsidiary rights workshops. These workshops are specially curated for Northern Fiction Alliance members and open to publishers beyond the alliance as well. The shared goal is to promote sustainable practices at the core of our industry.
By collaborating with The Publishers Association, we aim to provide invaluable insights into best practices, ensuring that sustainability remains a key focus in all our endeavours. The workshops will be packed with knowledge and practical tools to enhance your understanding of translation and subsidiary rights.
Attendance for Publishers Association and Northern Fiction Alliance members comes at no cost, representing our commitment to fostering a supportive community. For other publishers eager to join us, tickets are available at reasonable prices, granting access to this enriching experience.
We look forward to welcoming you to these workshops as we collectively strengthen the publishing industry and strive towards a sustainable and prosperous future.
Teas and coffees will be available, please bring your own lunch.
Speakers:
Emma Topping is an Executive Producer (including of Sony's PETER RABBIT feature franchise and Netflix's tentpole feature and series based on Brian Jacques REDWALL book series) and an Entertainment Lawyer with 25 years' experience in the entertainment business including with industry leaders Andrew Lloyd Webber's The Really Useful Group, The Walt Disney Company, Macmillan Publishers and Penguin Random House. Emma also lectures at Screen Film School Brighton (part of BIMM University), where she co-created and is teaching a brand-new BA (Hons) Film Business & Production Degree that launched in September 2022.
In 2020 Emma launched Viv Loves Film: a literary, development and production agency that specialises in book to screen, stage and video games adaptations and world building media franchises. Viv Loves Film exclusively represents a variety of content creators including Redwall Abbey Company (the Estate of New York Times Bestselling Author Brian Jacques), 2019 – 2021 UK Comics Laureate Hannah Berry and independent publishers Myriad Editions, Cipher Press and Inkandescent. Viv Loves Film also has its own development and production slate of features with two features in the early stages of development.
Diane Spivey is a publishing Rights and Contracts Consultant and also works as a writing coach with Gale & Co. She was previously Group Contracts Director of Hachette UK, a role from which she retired in 2020, following more than forty years working in the areas of rights selling and publishing contracts. She worked primarily in consumer publishing for publishers including Little, Brown, Simon & Schuster and Hodder & Stoughton. She is a contributor to Clark's Publishing Agreements, a member of the Rights Advisory Board for the Frankfurt Book Fair, on the advisory board of Kingston University's publishing MA course and a regular trainer and lecturer on rights selling and contracts.