what's on
Literature: Poets & Players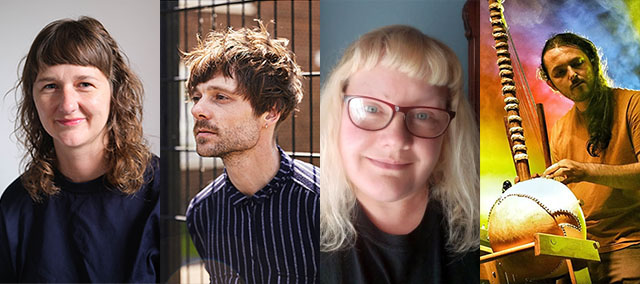 Please join Poets & Players on Saturday 25 February 2023, 2.30-4.00 at the International Anthony Burgess Foundation for a wonderful line-up of poets and musicians. The event is free and everyone is welcome. Read all about the poets and musicians below.
Clare Pollard
Clare Pollard has published five collections of poetry with Bloodaxe, most recently Incarnation and a pamphlet The Lives of the Female Poets, published by Bad Betty Press. Her poem 'Pollen' was nominated for the Forward Prize for Best Single Poem 2022. She has been involved in numerous translation projects, including translating Ovid's Heroines, which she toured as a one-woman show. Clare has also written a play, The Weather, that premiered at the Royal Court Theatre and a non-fiction title, Fierce Bad Rabbits: The Tales Behind Children's Picture Books. Her latest book is the novel Delphi.
Wayne Holloway-Smith
Wayne Holloway-Smith has published two collections of poetry, Alarum (Bloodaxe Books, 2017), and Love Minus Love (Bloodaxe Books, 2020) which was shortlisted for the TS Eliot Prize and the Ledbury Munte Prize for Best Second Collection. He won the National Poetry Competition in 2018, and edits The Poetry Review.
Jane Burn
Jane Burn is a working class, pansexual, autistic person, poet, artist, off-grid enthusiast and essayist. Places in which her essays have appeared include the Rebecca Swift Foundation, Persona Journal, The Friday Poem and The Alchemy Spoon. Since 2014, Jane's poems have won, been placed, shortlisted or longlisted in sixty-nine competitions. Her poems are widely published, in magazines such as The Rialto, Poetry Wales and Poetry London and anthologised by presses including Seren and Macmillan. Jane has an MA in Writing Poetry from Newcastle University, where she was awarded the 2022 academic prize for best overall performance. In 2022, she was awarded a grant from Arts Council England to document her neurodivergent writing theories. Her pamphlets and collections have been published by Indigo Dreams, Wyrd Harvest, KFS Press, Talking Pen and BLERoom Press. Her latest collection, Be Feared, is available from Nine Arches.
John Haycock and DBH
John Haycock is a multi instrumental live looping artist passionate about affecting acoustic sounds with electronics exploring new sonority.
John takes his home made kora (21 string African Harp) And runs it through a series of electronic devices creating lush soundscapes and solid beats and overlays it with woodwind instruments, bridging the gap between ancient West African Folk melodies and modern electronica, visiting influences from hip-hop to house to dub along the way.
John has been studying kora closely under the master Gambian griot Jali Nyonkoling Kuyateh for several years having also spent time In West Africa absorbing the culture.
DBH
DBH is Daniel Bridgwood-Hill, a composer, guitarist and multi-instrumentalist based in Todmorden, West Yorkshire. He is perhaps best known for playing all manner of instruments with the bands of Kiran Leonard, Irma Vep and Jim Ghedi.
Clare Pollard photo credit: Sophie Davidson