what's on
Literature: Poets & Players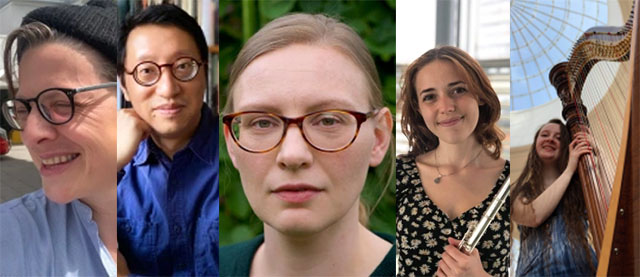 Please join Poets & Players on Saturday 22 October, 2.30-4.00, at the International Anthony Burgess Foundation for a wonderful line-up of poets and musicians. The event is free and everyone is welcome.
Clare Shaw
Clare Shaw (they/them) has four poetry collections with Bloodaxe. Their latest collection Towards a General Theory of Love was awarded a Northern Writer's Award, and was published in May 2022. Clare is Co-Director of the Kendal Poetry Festival and a regular tutor for Wordsworth Grasmere and the Arvon Foundation.
Clare has written and presented poetry, drama and documentaries on Radio 3 and Radio 4, and they work in collaboration with artists across genres. In 2019, they were a judge for the final Ted Hughes Award which celebrated new poetic work beyond the conventional realms of poetry, and in 2022, they wrote the libretto for the opera "Daylighting" which premiered at the Royal Academy for Music.
With a background in mental health and education, Clare is a keen advocate for writing as a tool of social and personal change, and as Project Lead for the Royal Literary Fund, they were responsible for setting up writing projects in workplaces across the UK. Clare was the resident poet for Lancashire Wildlife Trust in 2021 and they continue to use poetry to engage communities with wildlife and ecology. In collaboration with the novelist Winnie M Li, Clare was the recipient of a Royal Society of Literature Literature Matters Award in 2019, creating workshops and a free online resource for survivors of trauma.
Kit Fan
Kit Fan is a poet, novelist and critic. His first book of poems, Paper Scissors Stone (2011), won the inaugural HKU International Poetry Prize. As Slow As Possible (2018) was a Poetry Book Society Recommendation and one of the Irish Times Books of the Year. He was shortlisted twice for the Guardian 4th Estate BAME Short Story Prize. He has won Northern Writers Awards for Fiction and for Poetry, the Times Stephen Spender Poetry Translation Prize, and a Poetry Editors' Prize for Reviewing. His debut novel is Diamond Hill (2021). His third collection The Ink Cloud Reader will be published by Carcanet in April 2023. He is a Fellow of the Royal Society of Literature.
Holly Hopkins
Holly Hopkins grew up in Berkshire, grew up even more in London and now lives in Manchester. Holly's first collection The English Summer (Penned in the Margins) is shortlisted for the Forward Prize for Best First Collection and was awarded the Poetry Book Society's Special Commendation. Her debut pamphlet, Soon Every House Will Have One, won the Poetry Business Pamphlet Competition and Poetry Book Society Pamphlet Choice. Holly has been an assistant editor of The Rialto. She has received an Eric Gregory Award, a Hawthornden Fellowship and was shortlisted for the inaugural Women Poets' Prize. Her poems feature in Carcanet New Poetries VIII and have been published in The Guardian, The Telegraph and The TLS.
Hyphenation Duo
Jessie-May Wilson, flute  |  Holly-Alice Morton, harp
The Hyphenation duo formed in 2020 and having had limited performance opportunities during the last two years, they thoroughly look forward to performing in many more concerts in the years to come.
From a young age, Jessie-May has been a keen musician and has grown up surrounded by a love of classical music. She started the flute at the age of 9 and has found a passion for ensemble music and playing with others. Jessie-May has always thrown herself into her music-making and participated in her local orchestras, being fortunate enough to be able to perform a number of concertos and solos including Malcolm Arnold's Flute Concerto and Krommer's Flute Concerto in E Minor. While at school, she attended the Junior Royal College of Music where she was taught by Andrea Charles. At the Royal Northern College of Music, Jessie-May learns with Laura Jellicoe and continues to grow her love of performing by taking part in Orchestral projects and Chamber music groups including the Eros Wind Quintet. She particularly enjoys playing with this duo, being a harpist herself.
Holly-Alice has been playing the harp since she was 10. Growing up in Northamptonshire, she was taught by Soraya Vermeulen and attended the Northamptonshire Music and Performing Arts Trust, developing her musical experience by participating in orchestras from 12 years old. Since studying at the Royal Northern College of Music, she has been taught by Eira Lynn Jones and Dr Anne-Marie O'Farrell. Some highlights of her first two years of music college include, playing with the RNCM Session Orchestra, performing new works by RNCM composers with the Brand New Orchestra and performing with RNCM Harp Ensemble at the World Harp Congress in Cardiff.
The Hyphenation Duo appear by kind permission of the RNCM.