what's on
Literature: Poets & Players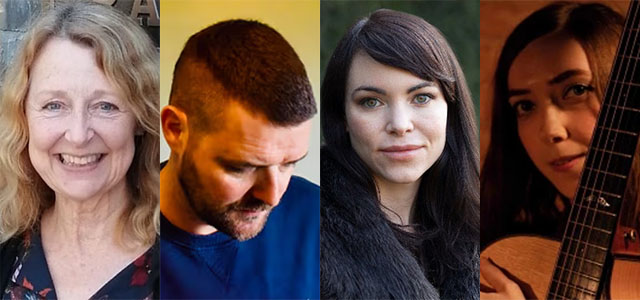 Please join Poets & Players on Saturday 28 October 2023, 2.30-4.00 at the International Anthony Burgess Foundation for a wonderful line-up of poets and musicians.#
You will find all the information you need regarding visiting the IABF on their website here. The event is free and everyone is welcome (no need to book tickets). Read about the poets and musicians below:
Alicia Stubbersfield
'Enigma Machine' is Alicia Stubbersfield's fifth collection, described by Dean Parkin as 'full of cracking details, honest observations and wry humour'. From the North-West, she was an English teacher for many years, taking her students to the Arvon Foundation at Lumb Bank where she found her own poetic voice. She now regularly tutors for Arvon and was Senior Lecturer in Creative Writing at Liverpool John Moores University. A sessional lecturer at the University of Gloucestershire she still loves teaching.
William Letford
William Letford has three collections of poetry published by Carcanet Press. His work has been adapted into film, projected onto buildings, carved into monuments, adapted for the stage, cast out over the radio, and performed by orchestras. He has helped restore a medieval village in the mountains of Northern Italy, taught English in Japan, and been invited to perform in Iraq, South Korea, Lebanon, Australia, Germany, India, Poland, and many more countries.
Yvonne Reddick
Yvonne Reddick is an award-winning writer, editor, ecopoetry scholar, and climber. She has received a Leadership Fellowship from the Arts and Humanities Research Council, the Poetry Society's inaugural Peggy Poole Award, a Northern Writer's Award and a Creative Futures Literary Award. Her work has appeared in The Guardian Review, Poetry Review and the New Statesman, and has been broadcast on BBC Radio 3 and BBC North West Tonight. Her first book-length collection, Burning Season, is published by Bloodaxe in 2023 and won the Laurel Prize for Best UK First Collection of Ecopoetry. Its title poem was a prizewinner in the Gingko Prize for Ecopoetry 2023. Her other publications include Ted Hughes: Environmentalist and Ecopoet and Anthropocene Poetry.
Becky Langan
Becky Langan is a percussive fingerstyle guitarist who employs a combination of techniques that explore the outermost reaches of the acoustic guitar. In 2016, Becky was a semi-finalist on Sky Arts Guitar Star (Series 2) – a TV show which scoured the UK to discover a world class instrumental guitarist .
Photo credits: Alastair Levy, Colin Cunningham,