what's on
Literature: Poets & Players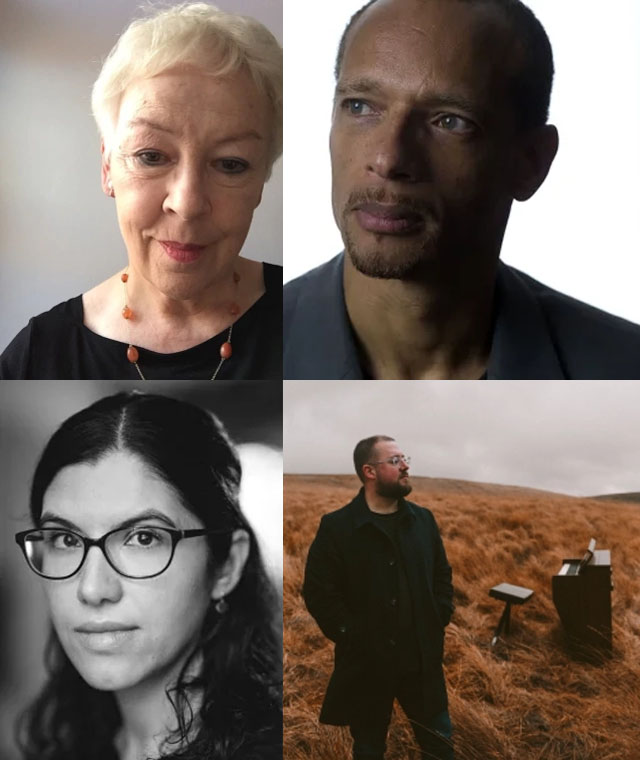 Please join Poets & Players on Saturday 23 September 2023, 2.30-4.00 at the International Anthony Burgess Foundation for a wonderful line-up of poets and musicians.
The event is free and everyone is welcome (no need to book tickets). Read about the poets and musicians below.
---
Denise Riley
A natal error. Steadied by pamphlets and brilliance of the babies. In leaping joy alone. Why do some will themselves to stone. Now is it time for night to fall.
---
Fred D'Aguiar
Fred D'Aguiar was born in London of Guyanese parents, and grew up in Guyana before returning to London for his secondary and tertiary education. He has lived in the US since the mid-90s and currently he is Professor of English at UCLA. He trained as a psychiatric nurse before reading African and Caribbean Studies at the University of Kent, Canterbury. He was Judith E. Wilson Fellow at Cambridge University and has been shortlisted for the T.S. Eliot Prize. For the Unnamed (2023) is Fred D'Aguiar's fifth collection with Carcanet. His previous poetry book, Letters to America was a Poetry Book Society Winter Choice in 2020. Carcanet also published his nonfiction, Year of Plagues (2021).
For the Unnamed was originally entitled 'For the Unnamed Black Jockey Who Rode the Winning Steed in the Race Between Pico's Sarco and Sepulveda's Black Swan in Los Angeles, in 1852′. That title provided the full narrative in a nutshell: we know the names of the owners of the two horses, we know the horses' names, the place and date of the race. But apart from his colour, and his victory, we know nothing about the jockey who made the whole thing happen.
Fred D'Aguiar's new book recovers and re-imagines his story. It was the most publicised race of its era with numerous press notices but he remained unnamed. We are given several perspectives on the action – owner's, trainer's, the horse Black Swan's, the jockey's lover, the jockey himself. But one crucial element of identity is forgotten, and that forgetfulness speaks eloquently about the time and the freed man's circumstances in the mid-nineteenth century.
Fred D'Aguiar's previous collection, Letters to America (2020), was a Poetry Book Society Winter Choice and a White Review Book of the Year.
---
Sarala Estruch
Sarala Estruch is a British writer, poet, and researcher. Her debut full collection After All We Have Travelled (Nine Arches Press, January 2023) was a Poetry Book Society Spring 2023 Recommendation and was described as 'an intelligent book, provocative and pulsing' in The Poetry Review. Her pamphlet Say (flipped eye, 2021) was a Poetry School Book of The Year. A fellow of the Ledbury Poetry Critics programme, her poetry, creative non-fiction, and reviews have been widely published in outlets including The Poetry Review, Wasafiri, and The Guardian, and featured on BBC Radio. Sarala is currently a doctoral candidate at the University of Liverpool, where she is a recipient of the JIC Davies Studentship. She lives in London.
---
Simeon Walker
Prolific UK-based pianist & composer Simeon Walker has quickly emerged as a leading light in the burgeoning Modern Classical scene, regularly performing and touring across the UK and Europe. He has supported a variety of artists including Neil Cowley, LYR, Submotion Orchestra, S. Carey, Loscil, Erland Cooper & Niklas Paschburg, and performed notable live sets at Latitude & Timber Festivals.
His music is regularly broadcast on BBC Radio 3, BBC 6Music, Classic FM, Scala Radio, KEXP & Soho Radio, with his music receiving listening figures in excess of 30 million streams across platforms, and a recent release, 'Reverie', featuring on the first o!cial Piano Day compilation by the LEITER label, alongside Nils Frahm, Olafur Arnalds and Chilly Gonzales. He also founded and continues to curate Brudenell Piano Sessions: an intimate and varied live music series highlighting the diverse music being composed and performed on the piano, hosted at Leeds' iconic Brudenell Social Club.
Simeon's recent work represents a return to the introspective piano-based instrumentals that first thrust him into the limelight. His new EP series 'Imprints' features a set of piano miniatures representing everyday fleeting moments; brief snapshots in time, centred on conveying the emotions and feelings experienced during the lockdowns of recent years, whilst highlighting the desire to be outside and out in the open.
His music and live performances reflect the extremes of human experience – gentle, calm and still at times; powerful, boisterous and flowing at others, with the aim of breaking down the barrier between performer and audience, creating the opportunity for real, genuine connection through music, not just through idle, passive listening, but in meaningful, engaged participation. Listeners are invited to find stillness, beauty and meaning as much in the spaces between the notes as the notes themselves, as musical stories are woven with each passionate, intimate performance.