what's on
Literature: Poets & Players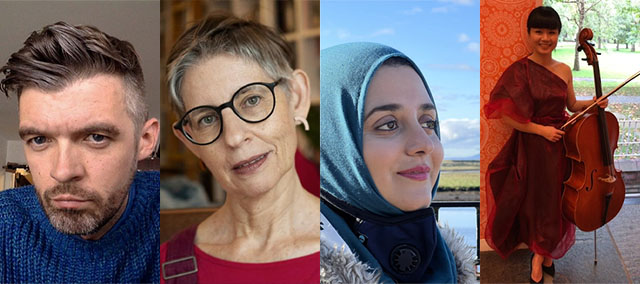 Please join Poets & Players on Saturday 25 November 2023, 2.30-4.00 at the International Anthony Burgess Foundation for a wonderful line-up of poets and musicians.
The event is free and everyone is welcome (no need to book tickets).
Nick Laird
Nick Laird was born in County Tyrone in 1975 and is the Seamus Heaney Professor of Poetry at Queens' University, Belfast. A poet, novelist, screenwriter, critic and former lawyer, his awards include the Betty Trask Prize, the Rooney Prize for Irish Literature, the Geoffrey Faber Memorial Prize, the Somerset Maugham Award, and a Guggenheim fellowship. For many years he taught at universities in America including Columbia, Princeton and NYU. His poem, Up Late, was awarded the Forward Prize for Best Single Poem in 2022, and a collection of the same name was published by Faber & Faber in June 2023.
Jacqueline Saphra
Jacqueline is a poet, playwright and activist. She is the author of nine plays, five chapbooks and five poetry collections. The Kitchen of Lovely Contraptions (flipped eye 2011) was nominated for the Aldeburgh First Collection Prize, All My Mad Mothers (2017) shortlisted for the 2017 T.S. Eliot prize and Dad, Remember You are Dead (2019), both from Nine Arches Press. Two chapbooks, A Bargain with the Light: Poems after Lee Miller (2017) and Veritas: Poems after Artemisia (2020) were published by Hercules Editions. Her chapbook from The Emma Press, If I Lay on my Back I Saw Nothing but Naked Women, illustrated by Mark Andrew Webber and set to music by Benjamin Tassie won the Saboteur Award for Best Collaborative Work, and her newest play, The Noises was nominated for a Standing Ovation Award. Jacqueline's collection, One Hundred Lockdown Sonnets (2021) was followed by Velvel's Violin in July 2023 (Nine Arches Press), a Poetry Book Society Recommendation. She is a founder member of Poets for the Planet and teaches and mentors for The Poetry School.
Naush Sabah
Naush Sabah is a writer, editor, critic, and educator based in the West Midlands. In 2019, she co-founded Poetry Birmingham Literary Journal where she is currently Editor and Publishing Director. The journal is a quarterly periodical of contemporary poetry and poetry criticism, described by the TLS as 'intellectually lithe and provocative' with a 'dynamic and incisive critical section'. Naush also co-founded Pallina Press where she is Editor-at-Large and she currently serves as a trustee at Poetry London. Her writing has appeared in The Poetry Review, the TLS, PN Review, The Dark Horse, Modern Poetry in Translation, and elsewhere. A limited-edition double micro-pamphlet box set Heredity/ASTYNOME was published by Broken Sleep Books imprint Legitimate Snack in June 2020. She was shortlisted for the Royal Society of Literature's 2021 Sky Arts Writers Award. Her debut pamphlet Litanies was published by Guillemot Press in November 2021 and shortlisted for the Michael Marks Poetry Award in 2022. It has been reviewed in The Guardian as having 'something of Thomas Hardy's bittersweet dialogue with the divine,' and in The Irish Times as, 'an exciting and auspicious set of poems'. She is a visiting lecturer in creative writing at Birmingham City University.
Li Lu
Originally from China, cellist Li Lu has performed across Asia and Europe. She was featured in a Sky Arts documentary Art of Survival (2011), reaching a vast audience in the UK and internationally. Following this experience she recorded one of her major solo albums In Love with Bach – the complete Bach Cello Suites. Li Lu enjoys collaborating with musicians and artists of all kinds and has been a recipient of several awards from Arts Council England, BBC Performing Arts Fund and the Irish Arts Council.
In addition to her exciting performing career, Li Lu has been teaching at Chetham's School of Music in Manchester since 2010, where she enjoys dedicating her time to talented young musicians
Naush Sabah photo credits: Gerry Cambridge