what's on
Literature: Sunny Singh in conversation with Nikita Gill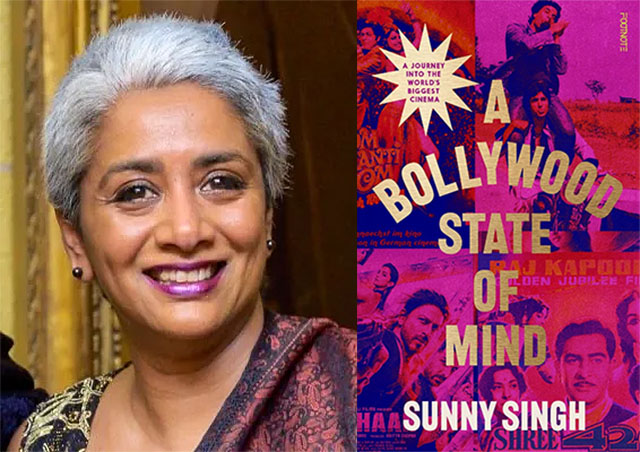 Blackwell's is absolutely thrilled to be hosting the Manchester launch of Sunny Singh's A Bollywood State of Mind — an exhilarating journey through the complex histories of India, performance traditions and cultural history. Sunny will be in conversation with Nikita Gill.
This event is being held at the International Anthony Burgess Foundation.
Doors: 6.00, starts: 6.30
Tickets are £5.00 or free when pre-ordering a copy of the book. A Bollywood State of Mind will be available to purchase on the night and Sunny will be signing copies after the talk. If you would like a signed copy but cannot make the event, please contact us on 0161 274 3331 or manchester@blackwell.co.uk and we can arrange this for you.
About the book
Like all Indians, Sunny Singh was born and brought up in a country of film fanatics. She and her friends waited impatiently for the latest releases, listened to the songs on radio and wore clothes inspired by those seen on screen. They learned about India and the world, determined their enemies and friends, and chose their moralities thanks to films.
A Bollywood State of Mind is a personal, intellectual and emotional journey which crosses five continents and 50 years of modern Indian history and cinema and explores why Bollywood means so much to so many across the globe. Sunny describes how this exceptional cinema retains its hold on the national imagination, how Bollywood has enhanced India's global standing in the 21st century, and how its characteristics endure despite the social and political changes.
Ranging over history, aesthetic theory and politics, A Bollywood State of Mind explores encounters with Bollywood in the market places of Dakar and Marrakesh, in the nightclubs of New York, Barcelona and Mexico City, and in the ruins of Egypt's Valley of the Kings, Petra and beyond. It shows how the pioneers and heroes of Bollywood cut across national, linguistic and cultural lines not only in India but in far reaches of Somalia, Peru, Malaysia and Russia.
About the author
Sunny Singh is a writer, novelist and public intellectual, and widely recognised as a champion for decolonisation and inclusion across all aspects of society. Her books include the highly acclaimed novel Hotel Arcadia and a study of Amitabh Bachchan for the BFI's film star series. She founded the Jhalak Foundation to fund and organise paediatric cardiac surgery for under-privileged children in India and, in 2017, she launched the celebrated Jhalak Prize for literature by writers of colour. Sunny Singh was born in Varanasi, India. She read English and American Literature at Brandeis University in the USA before gaining a Masters in Spanish Literature from Jawaharlal Nehru University, Delhi and a PhD from the Universitat de Barcelona. She lives in London.
Nikita Gill is a British-Indian poet, playwright, writer and illustrator living in the south of England. She has published five collections of poetry: Your Soul Is A River, Your Heart is the Sea, Wild Embers, Fierce Fairytales and Great Goddesses. She is the editor of the poetry anthology SLAM! and a novel in verse called The Girl and Goddess was published on National Poetry Day 2020.