what's on
Literature: The Life and Times of World of Twist – Gordon King in conversation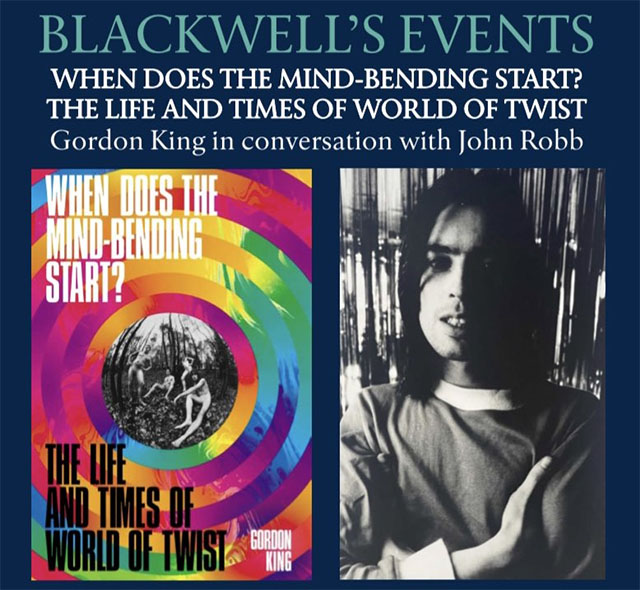 Gordon King talks to host John Robb about his new memoir WHEN DOES THE MIND-BENDING START? THE LIFE AND TIMES OF WORLD OF TWIST. Please note: this event's date has changed to 3 August.
---
'Most underrated group? World of Twist.' – Liam Gallagher
Join us for the Manchester launch of WHEN DOES THE MIND-BENDING START? THE LIFE AND TIMES OF WORLD OF TWIST – the incredible inside story of one of the greatest lost band of all time, as told by co-founder Gordon King. Gordon will be in conversation with host John Robb.
---
About the book:
Welcome to World of Twist: the greatest lost band of all time.
While fame, glory and untold riches seemed like an inevitability for this group at the turn of the '90s, the world was simply not ready for a band of retro futurists, psychedelic adventurers and cosmic tunesmiths. Too late for Madchester, too early for Britpop and too much fun to pigeonhole, World of Twist went on to face a demoralising string of 'what could have been's.
First, their debut single, 'The Storm', peaked two places outside of the UK top forty, meaning they missed out on a guaranteed Top of the Pops spot; then, when they were close to signing with Alan McGee's Creation Records, the label decided to go with an unknown band called Oasis instead. Finally, World of Twist fell apart in a torrent of drugs, mental illness, musical differences, sartorial contretemps and all-round shoulder-shrugging apathy.
But they burned bright and left an indelible mark on everyone who looked deep into their light, including fellow Mancunians and Oasis superstars Noel and Liam Gallagher.
Now, for the first time, co-founder, guitarist and principal songwriter Gordon King tells the incredible inside story of his time with the band. Revealing the jealousy, anguish and personal demons experienced by the clashing personalities of King and late singer Tony Ogden, this compelling memoir is the story of triumph, tragedy, comedy, drama, demise and recovery.
About the author:
Gordon King is a guitarist, songwriter and co-founder of former British indie band World of Twist.
Doors: 18.30, event starts: 18.45
Tickets are £3.00 or free when pre-ordering a copy of the book. WHEN DOES THE MIND-BENDING START? will also be available to purchase on the night and Gordon will be signing copies after the talk. If you would like a signed copy but cannot make the event, please contact us on 0161 274 3331 or manchester@blackwell.co.uk and we can arrange this for you.