what's on
Manchester Folk Festival: Douglas Dare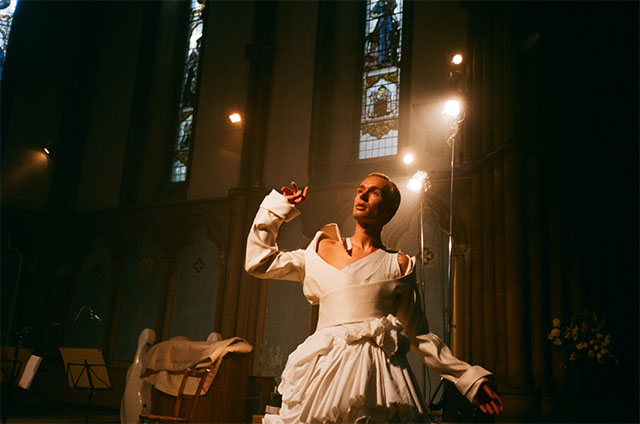 Where previously known as a piano player, for Douglas Dare's most recent album, 2020's Milkteeth, he picked up a new instrument, the autoharp, and as soon as he sat down with it, songs poured out – he wrote the album's first single Silly Games, in under an hour. "Instinctual feelings about childhood and innocence were the catalyst," he explains. "Then with the autoharp, it all just clicked – I could see the album laid out ahead of me."
The album was produced by Mike Lindsay — founding member of Tunng and one half of LUMP with Laura Marling — in his studio in Margate in just twelve days, in Milkteeth, Dare has become confident and comfortable enough with his own identity to reflect on both the joys and pains of youth. In doing so, he has established himself as a serious 21st century singer-songwriter with an enduring lyrical poise and elegant minimalist sound.
The English songsmith grew up on a farm as the youngest member of a large extended family, where he was often found in his own private world, dancing in his mother's pink ballet dress. "Only now do I feel free to express my inner child again, and am giving myself permission to play dress up," says Dare of Milkteeth's cover shot, in which he wears soft makeup and is draped with layers of white linen, acting the part of a Greek muse. "I never felt like I fit in. I was different, odd. I wanted to dance and sing and dress up and on a small farm in rural Dorset that really stuck out."
Milkteeth opens with I Am Free, which loops piano and lyrics in an intimate dance, comparing the seemingly inexorable freedom of childhood to flying. The Playground is a song Dare says he's wanted to write for years, about a yearning for childhood innocence and simplicity. While Red Arrows tells a story of vulnerability, of craving parental comfort, The Joy In Sarah's Eyes is a Jeff Buckley-esque ballad for a new generation. In Heavenly Bodies there is an unhurried darkness that nods to Leonard Cohen's songwriting, and is also the first time Dare has played the guitar on record. The melodies on Milkteeth are deliberately simple; Dare wanted it to feel familiar right from the first listen. In between these songs sit instrumental pieces – The Piano Room, The Stairwell, The Window – named for the spots they were recorded in, moments for stillness and reflection.
Marking his arrival in 2014 with the release of his acclaimed debut Whelm and establishing his musical dexterity on the much darker follow up Aforger in 2016, Dare's star keeps growing. In 2017 he was asked to contribute a re-interpretation of Dance Me to the End of Love to the Leonard Cohen exhibition A Crack in Everything at the Contemporary Art Museum of Montréal, currently showing at The Jewish Museum in New York before opening at the Contemporary Jewish Museum in San Francisco in September 2020. He was invited by Robert Smith to perform at his Meltdown Festival at the Southbank Centre in 2018, followed by the David Lynch-curated Manchester International Festival alongside Anna Calvi in 2019.
Dare's music speaks of his own experiences of universal themes like love, loss, and childhood. Perhaps most importantly, his music gives a voice and a sanctuary to anyone who's ever felt unusual or out of place. Whether he's singing of the pain of those in the Magdalene Laundries as on Whelm, describing coming out to his parents on Aforger, or processing his own childhood isolation on Milkteeth, Dare has a graceful honesty and an abiding clarity of vision in his simple and distinctive sound.
Please note: This event runs 9pm – 10pm and there will be no support artist.