what's on
Manchester Literature Festival: Jova Bagioli Reves, Ali Al-Jamri & Anjum Malik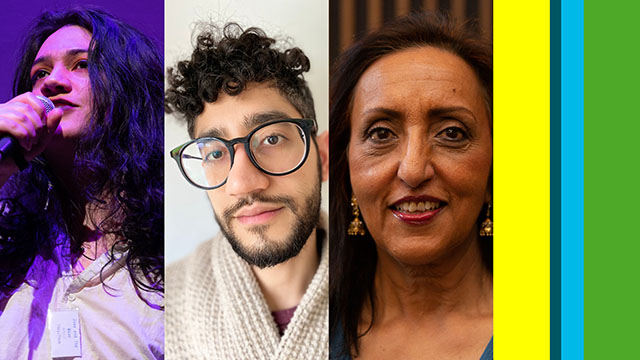 See Manchester's first Multilingual City Poets perform work inspired by protest, resistance, identity and home in English, Spanish, Urdu and Arabic.
Jova Bagioli Reyes is a queer, neurodiverse immigrant hailing from Colombia and Chile. Their poetry and music are heavily inspired by the long struggle of Abya Yala (so-called Latin America).
Anjum Malik is an established scriptwriter, poet and performer who has written several acclaimed plays for BBC, ITV and theatre.
Ali Al-Jamri is a Bahraini British poet, editor and producer. He edited ArabLit Quarterly: FOLK and Between Two Islands: Poetry by Bahrainis in Britain.
From the pro-democracy and anti-poverty protesters of Peterloo to a long history of protests against the elite in Colombia to the student protests which became a general strike in Piñera's Chile, Manchester and Jova Bagioli Reves' homelands have a rich history as places where people come together to fight injustice and demand change.
MLF and Manchester UNESCO City of Literature have commissioned Jova to create new work inspired by protest and resistance. Jova will perform their new commission in English and Spanish followed by Anjum and Ali performing their translations of the poem in their mother tongues of Urdu and Arabic.
This event is part of the 2022 Manchester Literature Festival.