what's on
Richard Casey: Piano Music by Beethoven, Burgess, Debussy and Ravel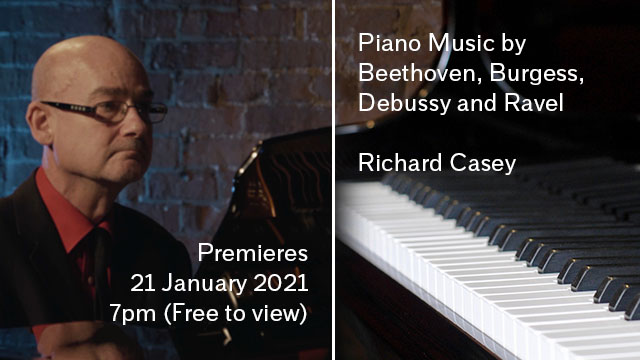 We are delighted to present a special concert by Richard Casey of Anthony Burgess's music for solo piano, played on Burgess's own Bosendorfer, recorded at the International Anthony Burgess Foundation in Manchester.

Richard Casey has recorded the collected solo piano works of Camden Reeves, Anthony Gilbert (with piano duo partner Ian Buckle) and Peter Maxwell Davies, as well as the epic Rutherford's Lights by Edward Cowie and Orchids by Ed Hughes. He has also recorded the The Piano Music of Anthony Burgess, available as a download and a CD on the Prima Facie label.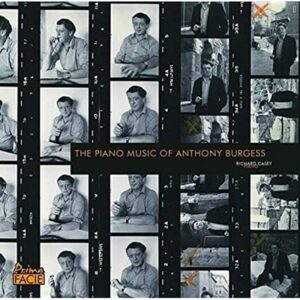 Richard has played many of Burgess's chamber works with the ensemble Psappha, including the world premiere of the Sonata in G Minor for Violoncello and Piano and Burgess's complete musical setting of The Waste Land.
Richard Casey says: 'It is a great privilege to perform some of Anthony Burgess's piano works. Such clear-sighted economy, fresh and direct, from one of Britain's most talented composers who, in his words, had the terrible misfortune to be better known as a novelist. He was a great clockwork contrapuntalist who claimed to write a fugue every day before breakfast. I have put his music with that of three composers who inspired him, Beethoven, Debussy and Ravel.'
The programme (full listing below) includes 'Preludes', a suite for solo piano completed in 1965, along with some of Burgess's earliest surviving compositions from the 1950s. They are characteristic of his musical style, including the use of fourths and metrical ambiguity, and also show the influence of Debussy's writing for piano. The preludes later provided some of the thematic material for Burgess's Concerto for Pianoforte and Orchestra in Eb (1976). Richard will also play the quirky and parodic 'Nine Miniatures' and a lullaby dedicated to Burgess's niece, 'Wiegenlied'. The programme concludes with 'Brief Suite for Piano': six movements which move from complex harmonic language to accessible simplicity, the whole suite being a light homage to Bach.
The concert is broadcast on YouTube and Facebook and is free to view. Donations are welcome. The complete programme lasts just under an hour.
Programme:
Six Preludes – Burgess
Sonata op. 54 – Beethoven (In tempo d'un Menuetto, Allegretto)
Nine Miniatures – Burgess
À la manière de…Emmanuel Chabrier – Ravel
À la manière de … Borodine – Ravel
Fuga a 4 Voci – Burgess
Étude pour les agréments – Debussy
Wiegenlied – Burgess
Brief Suite for Piano – Burgess
(Prelude, Sarabande, Gigue, Air, Fuga, Gavotte)
Watch here (or on Facebook):