what's on
Symposium: Multiplatform 2022 – Corporealities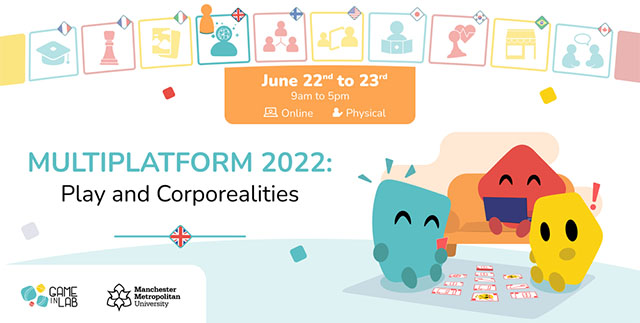 Multiplatform 2022: Corporealities, a conference on bodies and embodiment in games
The Manchester Metropolitan Game Centre is delighted to invite you to Multiplatform 2022: Corporealities, a conference on bodies and embodiment in games supported by Game in Lab and the Centre for Creative Writing, English, Languages and Linguistics at Manchester Metropolitan University. The conference will run over two days, the first of which will focus on analogue games and play, the second of which will focus on the digital.
The issue of embodiment in games encompasses political, social and material concerns, and requires us to pay attention to the positioning, mediation, and representation of bodies within analogue and digital games. Game Studies continues to address this issue in a variety of ways.
The burgeoning subfield of queer game studies, for example, has applied insights from queer and trans theory to games and play (Marcotte, 2018; Pozo, 2017; Ruberg, 2019), while another vein of research has explored the relationships between gaming cultures, porn cultures and the forms of erotic play found online (Paasonen, 2018; Apperley, 2022).
Other scholars have focused on representations of ability, disability, and able bodies in games, and on questions of accessible and enabling interface design (Boluk and LeMieux, 2017; Carr, 2020). Indigenous gamers and gamers of colour have explored how entrenched a normative understanding of the embodied player is in games, while offering means to challenge this entrenchment (Nakamura, 2017; Russworm, 2017; Laiti, 2021).
Affect theory, post-phenomenology and new materialist thought have been mobilised to offer accounts of gameplay as an embodied practice that implicates players in networks of human and nonhuman actors (Ash, 2015; Keogh, 2017; Anable, 2018). AR, VR and XR technologies, gestural interfaces and performance capture rigs have been analysed in terms of their capacity to alter the terms on which physical bodies enter and engage with gameworlds (Parisi, 2015; Hjorth and Richardson, 2020).
Elsewhere, studies of livestreaming have considered how streamers mediate their bodies and surroundings (Anderson 2017), while work on e-sports has addressed the bodily rigours of elite play (Brock, 2021).
This conference takes place from Wed 22 Jun 2022 9am until Thu 23 Jun 2022 5pm BST. See more about confirmed speakers and the itinerary.