what's on
Talk: The Best Double Act in Music Looks at Quartets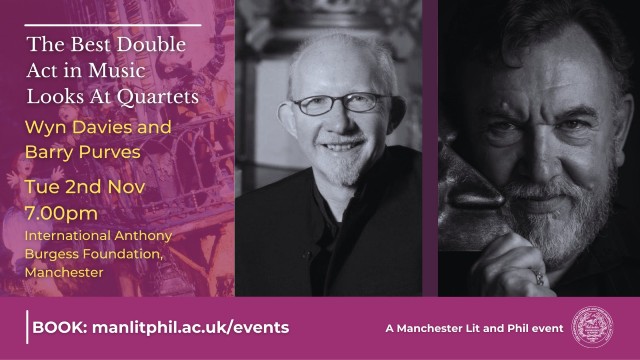 In this Manchester Literary and Philosophical Society event, join Wyn Davies and Barry Purves for a lively, informal evening of anecdotes, insight and informed trivia, about that beloved musical device, the quartet, with particular reference to Verdi's magnificent final act quartet in Rigoletto.
Wyn and Barry were involved with the WNO/S4C/BBC series Operavox, in the 90s, where six operas were adapted into animated epics, including Verdi's dark, disturbing Rigoletto. A half hour film, shot in an Ardwick railway arch, with puppets singing in English, sounds ripe for scorn, but the lavish and powerful film won awards around the world. Wyn and Barry will reflect on the musical and staging challenges of adapting the material, and on the hard decisions of what to leave out.
For this event they will screen and play extracts from Rigoletto, and along the way Wyn and Barry will look at how other composers such as Mozart, Sondheim and Sullivan have played with the quartet.
About the speakers
Wyn served his apprenticeship as repetiteur, chorus master and conductor at Welsh National Opera. He subsequently conducted a very wide operatic repertoire from Monteverdi to contemporary music theatre at English National Opera, Scottish Opera and many other companies in venues from Inverness to Invercargill and Treorchy to Tokyo.
He spent two seasons as assistant conductor at the Metropolitan Opera, New York and undertook two winter seasons for the Banff Centre for the Performing Arts in Canada which included the award-winning production of Weill's Threepenny Opera in Toronto. Other engagements have included opera in Spain, Japan, Australia and South Africa and many concerts including the Britten War Requiem in Belgrade and Tippet's A Child of our Time with the New Zealand Youth Orchestra and Chorus.
He has had particularly long associations with Opera North, New Zealand Opera (where he was Director of Music from 2005 to 2019) and nearby Clonter Opera where he has made many appearances over the years as conductor, pianist and coach. In Summer 2021 Wyn conducted A Little Night Music for the Buxton International Festival.
An award-winning film and theatre director Barry must hold some sort of record with Rigoletto, having directed an animated film, directed the play Quartet, and having directed the full opera in Italian on stage. Perhaps, the ballet next?
Barry has written and directed many animated short films, both for children and adults, and many plays including, this summer, a rampage through 'The complete works of Shakespeare (abridged)', with 'Frankenstein' up next. Also to be released soon is a short film about the speed boat racing, ambulance driving, puppet loving eccentric, Joe Carstairs.
Barry also has a weekly radio show, Bedtime with Barry, playing the mellowest of opera, ballet, folk and film scores.
Interested in becoming a member? Find out more: manlitphil.ac.uk/membership
Event image: Film still from Rigoletto, a Bare Boards production for the BBC/S4C, 1993, photo by Mark Stewart. The image features Gilda, Maddelena, Sparafucile and the Duke from the 1993 animated film of Verdi's Rigoletto, directed by Barry Purves and with Welsh National Opera conducted by Wyn Davies. The film will be discussed at the event.