what's on
Talks: Manchester x Detroit – Pioneering Change Through Music & Culture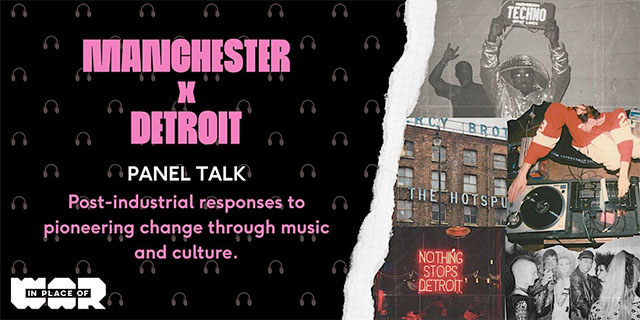 In Place Of War presents MANCHESTER x DETROIT: Post-industrial responses to pioneering change through music and culture.
This panel brings together remarkable change-makers from the cities of Manchester, UK and Detroit, USA. Sharing a similar post-industrial bedrock, the cities have responded in innovative ways – using music and culture as a fierce mode of expression, to unite communities, and to create initiatives which are shaping the cities' futures, as well as giving opportunities to marginalised communities and those at the grassroots.
In this panel, we explore what it means to make change in Manchester and Detroit – how bleak, desolate post-industrial cities can provide a fertile foundation for the emergence of exciting and ground-breaking culture. We will consider how this culture was exported to the world and how it can continue to represent and serve our cities in the future.
---
Speakers include:
• Ruth Daniel, CEO & Artistic Director, In Place of War (Manchester / Global) – Moderator
• Andy Spinoza, Author 'Manchester Unspun: How a City Got High on Music' (Manchester)
• Angie Linder, Detroit Techno Militia (Detroit)
• Luke Bainbridge, Author and music journalist (Manchester / London)
• Khali Sweeney, Founder & CEO, Downtown Boxing Gym (Detroit)
• Rivca Burns, Creative Director, Sounds from the Other City (Manchester)
---
In Place Of War enables grassroots change-makers in music, theatre and across the arts to transform a culture of violence and suffering into hope, opportunity and freedom.