what's on
The Observer / Burgess Prize 2021 winners announcement
Thu 11 Mar 2021
7:00 pm
Free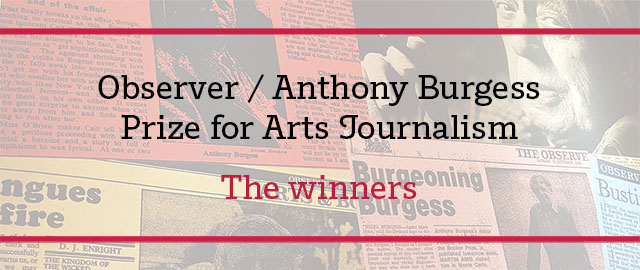 Join us for the winners announcement for the 2021 Observer/Anthony Burgess Prize for Arts Journalism, broadcast online for the first time.
The Observer Burgess Prize is the UK's leading award for arts criticism. In June last year, we asked for your best reviews, and you did not disappoint. We received by far the most number of entries since the Prize was launched in 2012, despite unparalleled disruption in the world of arts entertainment.
The shortlist will be announced on Tuesday 16 February 2021. And at 7pm GMT on Thursday 11 March, we will broadcast a prize ceremony to announce two prize-winning runners-up and the overall competition winner.
The first prize is £3,000 and the winning piece will be published in the print edition of the Observer New Review and online at theguardian.com. Two runners-up will also receive £500 each and have their work published online.
Do tune to the broadcast, which will be on YouTube and Facebook.  It will last around 10 to 15 minutes and will be free to view.