what's on
Theatre: Henry's End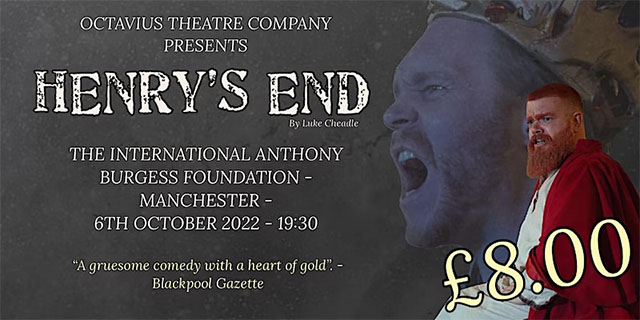 Octavius Theatre Company presents a gruesome yet comedic look into Henry VIII's last day. When faced by those he has wronged, will he repent or stay stubborn to the grave?
Henry's End is an original piece by Luke Cheadle. A hilarious yet tragic look into Henry VIII's death bed, Henry is faced by those who he wronged so closely. With only his Jester and bumbling servants for company and facing the very end of his days, the embittered and deathly ill King Henry VIII indulges in his Jester's (Will Somers) antics. However, when Somers'impersonations of Henry's old wives and adversaries hit too close to home, Henry realises he has bitten off more than he can chew. The question is, will Henry face the music and repent or die a stubborn old bloated shell of his former self?
The play first appeared at The Old Electric in Blackpool on 11th March 2022. A near sell-out show, it was met with critical acclaim. The show was described as "A gruesome comedy with a heart of gold" by the Blackpool Gazette.
Tickets £8  |  Concessions (Students and Over 65s) £6 (put code "CONCESSION" on checkout)  |  Purchase here
Age rating: 16+
Photo credit: Claire Griffiths