what's on
Troy Hawke: Sigmund Troy'd!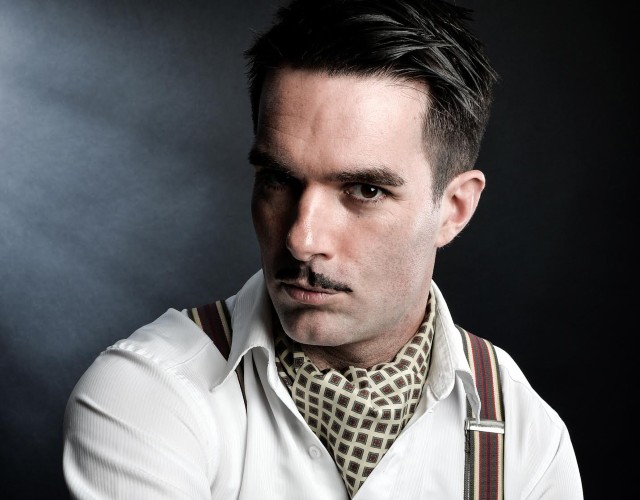 Homeschooled by an overly nostalgic mother, Troy confronts the 21st century as if waking from a 1930's time capsule… with insightful and hilarious consequences. Alongside TV appearances on Blue Go Mad in Ibiza (ITV2), Live at the Electric (BBC Three) and Benidorm (ITV1), Milo is an established character comedian with several successful Edinburgh runs under his belt, twice nominated for Best Show at The Amused Moose Laughter awards and listed as one of GQ magazine's Top 10 shows of the Fringe. 'Undeniably funny' **** (Chortle.co.uk). 'Perfectly worded jokes' **** (BroadwayBaby.com).
Troy Hawke: Sigmund Troy'd!
Fresh from finding and proving decisive links between IKEA, the CIA and the Nazi's, Troy Hawke, 1930's throwback homeschooled investigator Troy Hawke battle a new enemy on behalf of all people everywhere…the bastard saboteur that lurks in our own minds…
2022 Leicester Comedy Festival Best Show WINNER  |  2020 Leicester Comedy Festival Best Show nominee  |  2020 Perth Fringe World Comedy Weekly Award winner and main award shortlist |  2019 Perth Fringe World Comedy Weekly Award winner and main award shortlist |  2019 Total sellout run Edinburgh Fringe |  2019 Top 40 Best reviewed comedy shows Edfringe 2019
Reviews
Reviews for 'Tiles of the Unexpected!' 2019
Fringefeed 2020 ⭐️⭐️⭐️⭐️⭐️ 'Be sure to catch this show before it ends…you really are missing something special if you don't'
Weekend Notes 2020 ⭐️⭐️⭐️⭐️⭐️ 'Belly laughs from start to finish'
Wee Review 2019 ⭐️⭐️⭐️⭐️⭐️ 'Exuberant and infectious character comedy at it's finest'
Perth Hapoenings 2020 ⭐️⭐️⭐️⭐️'Clever, inventive, creative…i was utterly engrossed'
Fest 2019 ⭐️⭐️⭐️⭐️'…never stops being funny'
Beyond the Joke 2019 ⭐️⭐️⭐️⭐️'Character comedy at it's finest'
Edfest 2019 ⭐️⭐️⭐️⭐️'ludicrous yet thoroughly enticing'
Mumble Comedy 2019 ⭐️⭐️⭐️⭐️ 'Quite simply a comedy phenomenon!'
Voice Magazine 2019 ⭐️⭐️⭐️⭐️ 'The audience were beside themselves…I promise it will be a highlight of your fringe'
RGM 2019 ⭐️⭐️⭐️⭐️

👋WELCOME TO WH SMITH👋 pic.twitter.com/1HLs9PhQpW

— Troy Hawke (@milocomedy) June 13, 2022