what's on
Virtual book launch: Anthony Burgess – Collected Poems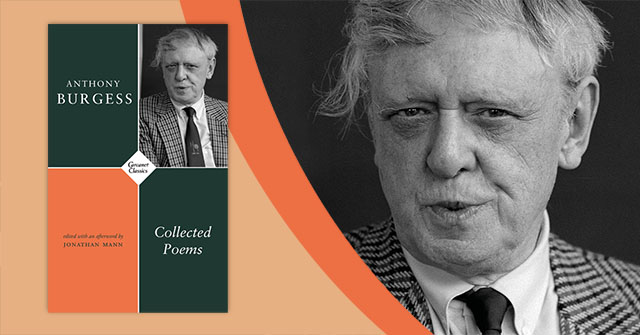 Please join us to celebrate the launch of Anthony Burgess's Collected Poems (Carcanet), a brand new volume edited by Jonathan Mann that redraws the map of Burgess's poetry.
The book's sheer breadth is a real treat for fans of Burgess's writing. From lyric poems to love poems, from political works to limericks, this 500-page collection contains hundreds of unpublished poems.
---
Speaking at the virtual book launch, broadcast on Zoom:
Jonathan Mann
As well as being editor of Collected Poems, Jonathan Mann is a teacher, editor, researcher, poet and musician. He is co-founder/co-editor of the Journal of Impact Cultures and a curator of poetry through the Capital Letters live poetry series. His has undertaken numerous research projects on Anthony Burgess, pedagogy and academic literacy.
Rachel Mann
Rachel Man, an Anglican parish priest and writer, was Poet-in-Residence at Manchester Cathedral. She is the author of eleven books, including Fierce Imaginings: The Great War, Ritual, Memory and God and her first collection of poetry, A Kingdom of Love, was published by Carcanet in 2019. She is Visiting Fellow in Creative Writing and English at Manchester Metropolitan University.
Andrew Biswell
Andrew Biswell is the author of The Real Life of Anthony Burgess and the editor of A Clockwork Orange (Penguin Classics) and the Irwell Edition of A Vision of Battlements. He is a general editor of the Irwell Edition of the Works of Anthony Burgess, and is director of the International Anthony Burgess Foundation.
---
Audience members will have the opportunity to ask their own questions. We will also be showing extracts of the text during the reading so that you can read along. Registration for this online event will cost £2, later redeemable against the cost of the book. All attendees will receive the discount code and how to purchase the book during and after event. Register for the Zoom event here.
Please note that there is a limited number of places for the reading, so do book early to avoid disappointment. You should receive a confirmation email with details on how to join after you register. If this does not arrive, please contact us to let us know.
We look forward to seeing you for this online book launch.