what's on
Winners' announcement: Observer/Anthony Burgess Prize 2022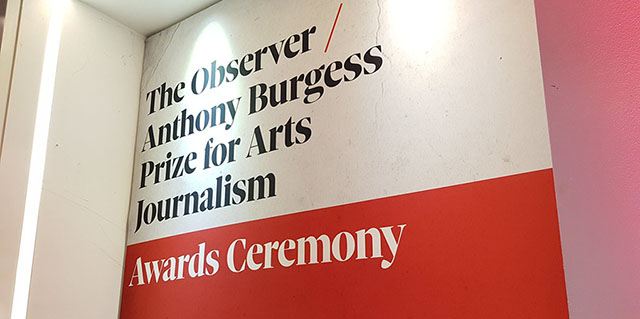 The winner of the 2022 Observer/Anthony Burgess Prize for Arts Journalism will be announced on YouTube at 3pm GMT on 25 February 2022.
The Observer / Burgess Prize is a writing competition with a prize fund of £4,000 and a chance to be published in the Observer newspaper. Entrants are tasked with writing a review of up to 800 words, with past subjects as varied as cookbooks, comedy, Shostakovich and Stormzy.
This year's judges were the Observer's pop critic Kitty Empire, arts editor of the Observer Sarah Donaldson, and Will Carr, editor of Anthony Burgess's The Ink Trade: Selected Journalism 1961-1993. Their lively debate has given us this shortlist.
Our winners' broadcast last about fifteen minutes and will begin at 3pm sharp on 25th February 2022 (set a reminder now), which just so happens to be Anthony Burgess's birthdate. Of the eight shortlistees, one winner will be awarded £3,000, while two runners-up will get £500 each. The winner will also get their successful article published in the print edition of The Observer newspaper.
The broadcast will be on our YouTube channel and you can also watch it on this page (see below). No ticket necessary – just tune in. And good luck to all of our amazing shortlisted writers!
The winners' announcement: