what's on
Words and Music: James Joyce and Anthony Burgess

We are delighted to welcome the prize-winning translator and critic Enrico Terrinoni to give a talk at the Burgess Foundation on James Joyce and Anthony Burgess.
James Joyce was Anthony Burgess's greatest influence as a writer. Joyce's work inspired Burgess's novels, music, films and critical writing, including the book Joysprick.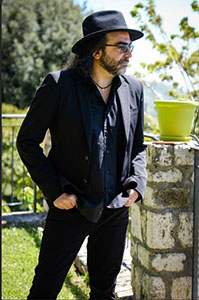 Enrico Terrinoni (pictured), a world-famous Joyce expert, explores some of these connections, based on his new research in the archives of the Burgess Foundation.
Enrico is Professor of English Literature at the Università per Stranieri di Perugia. The final two volumes of his pioneering critical edition of Joyce's Finnegans Wake, done in collaboration with Fabio Pedone, have recently been published by Mondadori.
His other translations include works by Muriel Spark, Brendan Behan and B.S. Johnson. He contributes to Il Manifesto and Left and has written for publications such as the Corriere della Sera, Sole 24 Ore, La Stampa and Il Messaggero.
The event will include songs from Blooms of Dublin, Anthony Burgess's musical version of Joyce's Ulysses, performed by No Dice Collective.
Please join us for a wine reception at 6:30pm. The talk will begin at 7:00pm
This event is generously supported by the British Council.