NEWS AND BLOG POSTS
Anthony Burgess's library in Bracciano
Anna Edwards

1st April 2019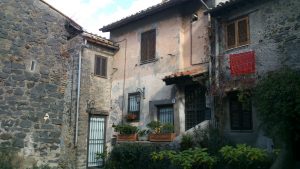 In 1970 Anthony Burgess settled with his wife, Liana, and their son, Paolo Andrea, in Bracciano, about 45 kilometres (28 miles) north-west of Rome. A fifteenth-century house on the Piazza Padella became the family's main home and the new centre of Burgess's professional life. The family's years in Bracciano are particularly well documented, as many of the books, objects, manuscripts and photographs in the Burgess Foundation's collection were created or acquired during this period.
A 55-page typewritten catalogue of Burgess's library in Bracciano has been discovered in our collection, and this promises to provide new details of Burgess's reading. The catalogue allows us to identify key reference texts and research materials for a number of novels, films and other writing projects. It reveals exactly how the book collection was categorised, arranged and navigated, with precise details of which books were shelved in each room throughout the house.
This is not only of value to researchers, but it also allows us to offer visitors a more authentic experience of Burgess's library. Since December 2018 we have been working on a major project to re-order the Burgess Foundation's collection of 9000 books in a manner which aims to recreate Burgess and Liana's own system of arrangement.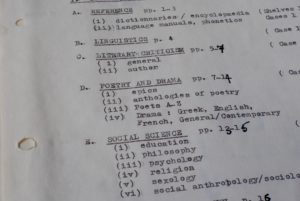 The idiosyncratic library guide categorises books under headings including children's books, hobbies, sexology, humour and science fiction, as well as the more expected categories of British and American fiction, music, poetry and literary criticism. Further sections include books in various languages — French, German, Italian, Greek, Russian and others — and (inevitably) there are many books, in English and in translation, written by Burgess himself.
Many of these original categories have now been introduced to the Foundation's Reading Room — though, for practical reasons, it has not been possible to replicate the Bracciano library's arrangement exactly, as not all of the books in our collection originated from this house, and some books owned by Burgess and Liana in the 1970s are no longer present. Large accessions have also been received by the Foundation from Burgess's homes in Monaco and London, and we have received several other important donations and bequests in the 25 years since Burgess's death.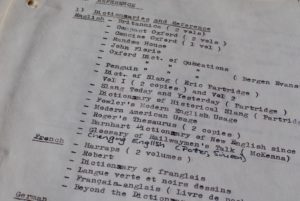 This project forms part of a larger ambition to prepare the book collection for online publication this year in the National Bibliographic Knowledgebase (NBK), a gateway to catalogues from over 225 academic and specialist libraries in Britain. Each book will be checked and conservation-assessed, dusted, assigned a category according to the Bracciano library guide, and its location is then logged in a custom-made template, ready for export to the NBK. Inscriptions, annotations, enclosures, contributing authors and translators — and the publication details of any associated reviews by Burgess — are also being recorded for the first time in a systematic way.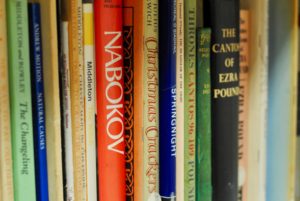 The library is open by appointment every weekday, and we welcome everyone who is interested in Anthony Burgess's life and work. Please contact our archivist, Anna Edwards, to arrange a visit, on anna@anthonyburgess.org or 0161 235 0776.