NEWS AND BLOG POSTS
Anthony Burgess on Christmas carols
Andrew Biswell

21st December 2018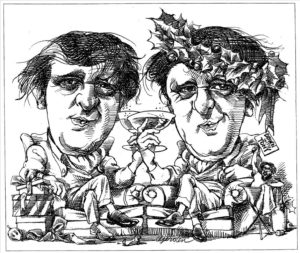 Anthony Burgess wrote about Christmas in a number of different contexts. His responses are always distinctive and flavoursome, like a glass of Madeira or a traditional British Christmas pudding, stuffed with fruit and sixpence coins.
In the first volume of his autobiography, Little Wilson and Big God, Burgess recalls that one of his earliest published short stories was 'The Great Christmas Train Robbery'. In the late 1960s he was commissioned to make an English translation of The Childhood of Christ by Hector Berlioz. His translation was later revived as a big-budget production for Independent Television (ITV) in 1985.
His other writings on the subject include the nativity chapter in Man of Nazareth, a novel based on the television series he wrote for Franco Zeffirelli, Jesus of Nazareth; and the sonnets derived from the New Testament which appear in ABBA ABBA, now available in a new Irwell Edition. Burgess also made a setting for SATB choir of 'Bethlehem Palmtrees', Ezra Pound's version of a Spanish poem by Lope de Vega.
He reviewed The New Oxford Books of Carols for the Observer while he was visiting New York in 1992. Burgess already knew that this was likely to be the last Christmas he would see, and his nostalgia for the music of his youth is heightened and informed by that melancholy knowledge.
The unedited text of the review, reprinted here, is in the archive of the Burgess Foundation in Manchester.
---
The New Oxford Book of Carols, edited by Hugh Keyte and Andrew Parrott (Oxford University Press)
Like so many of the appurtenances of Christmas, carols turn out to be younger than we expected. Take 'Good King Wenceslas'. True, the tune dates from the fourteenth century, when it was a spring song beginning 'Tempus adest floridum', but J.M. Neale made it what it is in 1853, fitting 'art words' to it, with proper rhymes, a story of Victorian uplift, and even a modernistic contradiction: why lug logs to the pauper when he lives near the forest fence?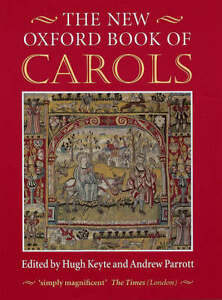 This elegant and expensive compilation by Hugh Keyte and Andrew Parrott, assisted by Clifford Bartlett, gives all that is to be given and says all that is to be said. All the English language carols are here, as well as a number of Continental ones, including Basque, and, to lift the heart of my Italian wife, Quando Nascette Ninno, right at the end (No. 201). Handel probably heard this Neapolitan shepherd's song in Rome and appropriated the siciliano rhythm for the Pastoral Symphony of Messiah. Italian piffari were a common London sight in the nineteenth century, according to Mayhew. This is what I mean by saying that all is said that has to be. But it is the carols in English that concern us most. This includes the American ones.
I write this in a hotel room on East 64th Street, Manhattan. Receiving an elaborate book on the carol, I felt oppressed by homesickness, finding in memories of boyhood waits-singing the very essence of English life. But what was the carol I loved best? 'We Three Kings of Orient Are'. This was the work of John Henry Hopkins (1820-91), rector of Christ's Church, Williamsport, Pennsylvania, published a decade after 'Good King Wenceslas'. Hopkins was, say the editors, 'agreeably splenetic' in his approach to the performance of his property. Change one word or note, and 'I shall persecute the offender to the extent of the law'. He had reason: the work has been travestied, and the worst travesty is a dramatic presentation which has the kings handing their prophetic gifts to the Christ-child. The carol is not about that: it is essentially a chronicle of journeying, suitable for the dark winter streets. But travesty indicates a kind of love.
We four Beatles of Liverpool are, / John in a taxi, Paul in a car, / George on a scooter, bibbing his hooter, / Following Ringo Starr.
This children's version performs a historical task, like 'Hark the herald angels sing / Mrs Simpson's pinched our king.' Parody is easier than the crafting of new carols. Bruce Blunt wrote the words, and Peter Warlock the music, of 'Bethlehem Down', which (1927) must be the last notable modern carol. It was written out of poverty and a desire to be drunk over Christmas: the Daily Telegraph published it on Christmas Eve, reproducing Warlock's exquisite calligraphy (the more exquisite the more drunk he was). The words aren't bad either:
'When he is king we will give him the king's gifts, / Myrrh for its sweetness, and gold for a crown, / Beautiful robes,' said the young girl to Joseph, /Fair with her first born on Bethlehem Down.
Since Warlock's suicide, and the end of his tradition of modernised mediaevalism, composers have taken old carols for acerbic tarting up or, like Benjamin Britten, made new music from old texts. Edmund Rubbra made what one would regard as an inevitable tonal setting of the final poem of Des Knaben Wunderhorn — rendered into Latin as Dormi, Jesu. But Anton Webern also set it — atonally. Actually it works: the pitches are a near-perfect match to the Latin intonations. But I think a twelve-tone carol service would provide a fitting declaration of the end of institutional Christianity.
Back to the ancient, which is not, of course, all that old. 'The Holly and the Ivy' was notated by Cyril Sharp in Chipping Campden from a Mrs Mary Clayton, and first published in 1911. The refrain — about the rising of the sun and the running of the deer and the playing of the merry organ — is 'just the kind of "Olde Englishe" trumpery that a canny broadside publisher of 1710 might have strung together from stock to eke out his product.' Dear, dear, and it once seemed so genuine and remote. A lot of the editorial comments are unanswerably shrewd. Holst's setting of 'Lullay My Liking' falls into place a a folksy pastiche, though none the worse for that, suitable for the parish council of Thaxted in 1916. 'The incumbent at that time, Conrad Noel, was busily establishing the village as the mecca for the morris and the vast perpendicular church as a focus for Christian-socialist Sarum-ritists.' Sir Richard Terry, director of music at Westminster Cathedral, did his own setting of the fifteenth-century carol. 'The hint of the parlour ballad in the refrain … was perhaps calculated to appeal to the many Irish members of the cathedral congregation.' Yes, shrewd, very.
We need not be surprised to discover that the old story of the organ breaking down on Christmas Eve 1818 at Oberndorf was a great lie. True, Mohr and Gruber did produce Stille Nacht in D major for guitar and congregation, but there was no emergency. And there was always a strong folk element in the midnight masses of Austria and Catholic Germany. Our editors believe the carol to have carried a tinge of vulgarity in England, if not America, and to have attained popularity perhaps through Bing Crosby's rendition, with little-tough-guy chorus, in The Bells of St Mary's, 1945. To my recollection the troops sang it at Christmas because of a natural troopish bloody-mindedness: the carol, like Lili Marlene, belonged to the enemy.
And so we come to 'The Twelve Days of Christmas', derived from a traditional forfeits game and perhaps of Celtic origin. It is relentlessly tonal with its rest on the dominant for 'five gold rings'. It seems to date from 1864, with that ringing dominant coming from Frederick Austen's 1909 arrangement. Its remoteness springs from its odd archaisms — colly-birds are blackbirds, and the gold rings are probably goldspinks, or Scottish goldfinches. Why pear-trees? A folk-etymologising of perdrix, or partridge. It is, of course, richly comic. If we want the highly serious, we must go way back, and this marvellously inclusive book will soon have us shivering in mediaeval Latin. It would make a wonderful present, but the recipient must be learned, ironic, and devoted to this strange art-form. It is not for the generality, meaning the drunk and sentimental. I recommend it with my own best wishes for Christmas.
(c) Anthony Burgess 1992