NEWS AND BLOG POSTS
Composers in residence at the Burgess Foundation
Burgess Foundation

18th November 2014
We're delighted to announce that three composers in residence have been appointed as part of our Words and Music project with the contemporary music ensemble Psappha.
Words and Music is a series of live performances combining new music, spoken word, and dance. The performances, which will take place at the International Anthony Burgess Foundation, will be filmed and made available via Psappha's website. The Words and Music commissions will give three composers the chance to engage with the rich archive of the Burgess Foundation and to respond to it musically in creative and imaginative ways.
Halldór Smárason is an Icelandic composer who has studied at the Ísafjörður Music School, the Icelandic Academy of the Arts and the Manhattan School of Music, New York, where he studied classical composition with Dr. Reiko Füting and graduated in the spring 2014. He has worked with many leading artists, including Caput, Oslo Sinfonietta, Reykjavík's Trio, Duo Harpverk, Elektra Ensemble, The Iceland Youth Symphony Orchestra, Ensemble NeoN, Marco Fusi and Ensemble ACJW. During his first year in the United States, his piece Stara was selected as the winning submission of the Manhattan Prize. In 2014, Halldór's master's thesis was premiered by the Manhattan School of Music Symphony, conducted by David Gilbert. Halldor's commission is supported by Curated Place and his piece will premiere on 7 January alongside Scenes from a Novel by György Kurtág. Details here.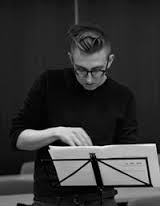 Leo Geyer studied composing and conducting at Manchester University and the Royal Northern College of Music and also attended the Vienna University of Music and Performing Arts to study conducting with Prof. Uroš Lajovic. He has been awarded various awards for composition including the RNCM Gold Medal Award, CMU New Ensemble Call for Works and the Philip Bates Prize, and his music has been performed by ensembles including Opera North and the Manchester Camerata. Leo has spent several years working with the writer Martin Kratz. They have written a number of pieces together and have been awarded the Rosamund Prize for their collaboration. They had particular success with their opera The Mermaid of Zennor which has received several performances including a production at the Tête à Tête Opera Festival and has been described by the Times as "imaginative and beautifully shaped". Leo works at the Royal Opera House as a cover conductor for The Royal Ballet. His commission will premiere on 4 February as part of a programme including Stravinsky's The Soldier's Tale. Details here.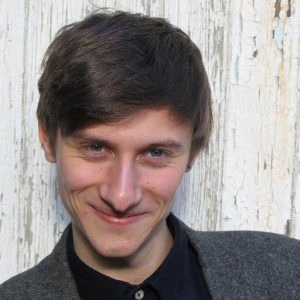 Daniel Kidane studied at RNCM and his music has been performed extensively across the UK and internationally as well as being broadcast on BBC Radio 3. Described by the FinancialTimes as 'quietly impressive' and by The Times as writing music that is 'tautly constructed' and 'vibrantly imagined', his works are packed with incident and expression, braiding together sounds and entwining groups of instruments to create a meta-instrument that deftly weaves through novel timbres. He has toured with Manchester Camerata, conducting his harpsichord concerto 'Feuersturm', and other works have been presented by the Fournier Trio, the Royal Liverpool Philharmonic Orchestra's 10/10 Ensemble and the Dr. K Sextet. His new piece will premiere on 18 March alongside Facade Entertainment by William Walton. Details here.