NEWS AND BLOG POSTS
Cyrano de Bergerac: Northern Stage's new production
Burgess Foundation

22nd April 2015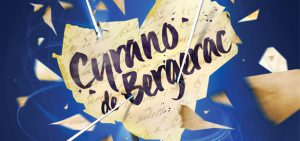 The first thing you notice about Northern Stage's production of Cyrano de Bergerac is that it's set in a gymnasium, complete with vaulting horses, crash mats and wall-bars. As the audience take their seats, the actors on stage are warming up with skipping ropes and sit-ups. These activities place an appropriate physical emphasis on the play, which concerns itself with soldiers, sword-fighting, boasting, love and war.
Burgess's adaptation of Rostand's famous play, first performed in Minneapolis in 1971 and regularly revived ever since, was the best-attended production in the history of the Tyrone Guthrie Theatre, and in 1973 it inspired an award-winning Broadway musical, co-written by Burgess and the composer Michael Lewis.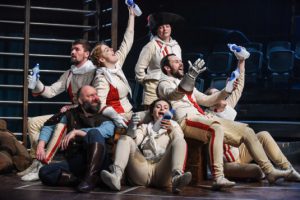 The director, Lorne Campbell, has trimmed Burgess's text slightly and made it swifter. The doubling of some parts works very well with a versatile cast of just eleven actors. George Potts is so convincing as De Guiche and Ragueneau, and his costume-changes are performed at such speed, that at first I did not realise that both characters were played by the same person. The ensemble of young actors is consistently impressive, and there is not a weak performance among them.
Nigel Barrett as Cyrano stands solidly at the heart of the play. Cyrano the old war-horse, bearded and battle-scarred, struts and bellows to great effect, though his quieter scenes with Roxane are played with the right amount of tenderness. Much of the play's effect depends on the main actor's ability to navigate his way through Burgess's rich and complicated text, and Barrett achieves this with admirable dexterity. Some of Cyrano's florid poems are delivered (entertainingly) as raps, and Barrett is alert to the comic qualities of the play. He understands and brings out the comedy in lines such as 'Call it my little foible. To displease / Is my chief pleasure. I love hatred. He's / My best friend who admits he's my worst foe.'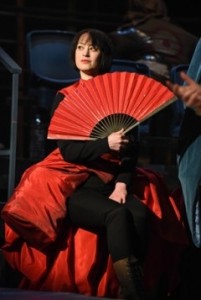 Barrett is particularly good in the show-stopping 'No, thank you' monologue in Act Two. 'What would you have me do?' Cyrano asks. 'Sail stagnant waters, with madrigals for oars, / The canvas filled with the breath of ancient whores / Or unfructified duennas? Be the pope / Of some small literary circle and softsoap / Editors and reviewers? Shall I look / For a lifetime's reputation from one book / And then give up the agonizing art / As far too wearing? No thanks. Shall I start / Finding true genius only in imbeciles / And acneous hairy oafs? Let out shrill squeals / At being neglected by the columnists? / Live in a fog of fear, grope through the mists / Of scheming calculation? No thanks.' It is difficult to hear this passage, especially the line about 'a lifetime's reputation from one book,' without thinking of Burgess's often turbulent relationship with his own novel, A Clockwork Orange.
Among the other players, Chris Jared plays Christian as neurotic, angst-ridden and even (on occasion) nerdy, but his confident stage presence reminds us that he is also a bold young soldier. Cath Whitefield is excellent as Roxane. Her performance is animated and expressive, and she displays a wide range of emotions, including passion, grief, anger and sorrow. As with Cyrano himself, versatility is the key to her character.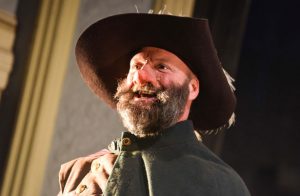 The cast as a whole make very good use of the set, designed by Jean Chan. The costumes and movement are also very good. It is clear that careful thought has gone into finding suitable accents: Christian is Welsh (his accent is imitated by Cyrano), while the company of Gascons are Geordies.
Although there is less sword-fighting that you might have expected — most of the duels being done as mime — this is an outstanding and crowd-pleasing production of the Burgess play, intelligently directed and performed by a very strong cast, which deserves to do well. I encourage you to go and see it if you can.
Andrew Biswell 
PERFORMANCE DATES:
Royal and Derngate Theatre, Northampton, 3-25 April 2015
Box office: 01604 624811
Northern Stage (formerly Newcastle Playhouse), 29 April to 16 May 2015
Box office: 0191 230 5151