NEWS AND BLOG POSTS
Object of the Week: Anthony Burgess's Horoscope
Anthony Burgess was fascinated by the possibility of predicting the future. Introduced to the mysteries of the Tarot through studying T.S. Eliot's poem The Waste Land while at school, he later designed his own Tarot decks with his first wife Lynne and practised cartomancy himself, giving readings at a village fete in Adderbury, Oxfordshire in the 1950s, wearing a false beard and billing himself as 'Professor Sosostris, famous clairvoyant'. A diary entry from 1951 also describes an attempt at palmistry: 'To Vicar's in the morning for coffee and to read Vicar's wife's brother's hand. It an unlucky one. There also sherry. [sic]'
Burgess's longest statement on the subject of clairvoyance is an article called 'How To Fortell The Future', dated September 1968 and apparently written for Playboy but never published. It exists in the form of a galley proof in the archives of the Burgess Foundation, though unfortunately the first page is mysteriously absent. He describes his pride in his ability to read palms and cards, and describes at length his precognitive dreams that among other things appear to have almost predicted the assassination of President Kennedy; much of the article ponders the possible scientific basis of clairvoyance, and Burgess is clear that as far as he is concerned 'there is something in it', although he concludes by saying that even so it is best 'to sit back and let the future do its own veil-breaking job'. Another relevant piece of writing is Burgess's short story 'Chance Would Be A Fine Thing', about the ill-advised attempt by two women who play the football pools to cheat by using Tarot cards. This is undated but must have been written before 1969, when the manuscript was returned to him by his agent Deborah Rogers: it is possible that this work was composed around the same time as the Playboy piece.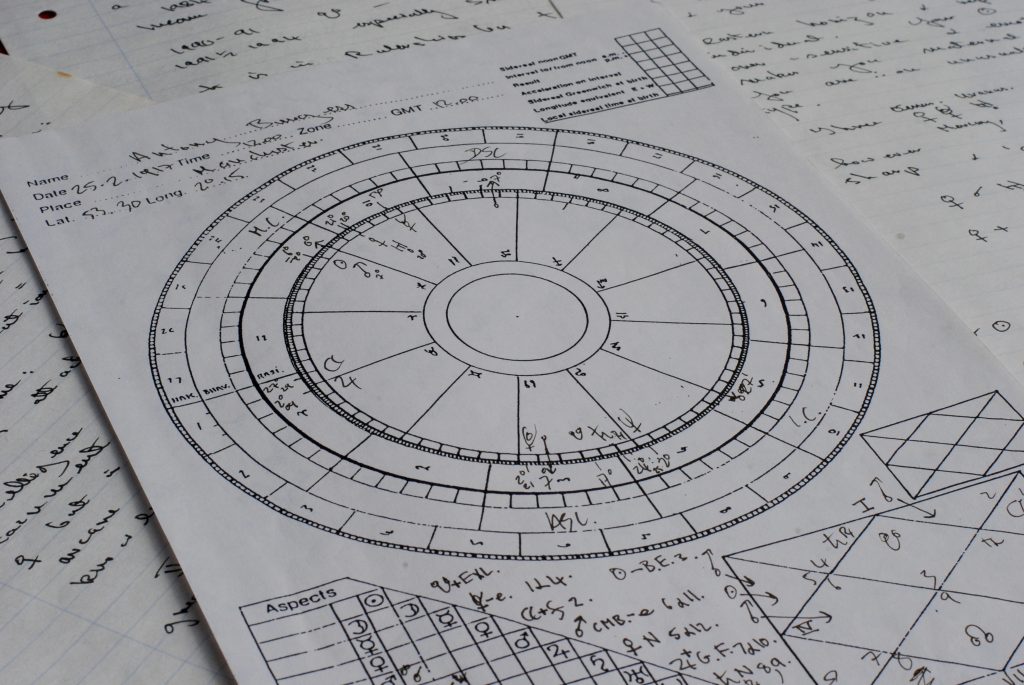 1968 was a time of great turmoil for Burgess, and it may have been this turmoil that reawakened his interest in the occult. Lynne died in March of cirrhosis of the liver, and he was stricken by grief and loneliness, and guilt, in the months afterwards. His account of the period in You've Had Your Time describes getting into confused altercations in the pubs of Chiswick, and a dazed journey to California to try and write a screenplay about the life of Shakespeare. It was during this visit that he had his horoscope read, though Burgess was unimpressed with its powers as it failed to predict his eventual marriage to his second wife Liana Burgess, or reveal the existence of their four-year-old son Andrea whom he first encountered in the summer of that year. In his Playboy article Burgess dismisses 'horoscopes and crystal gazing' along with 'the finding of symbols in tea leaves and thrown apple peel' in favour of predictive dreams, though he would return to his horoscope later.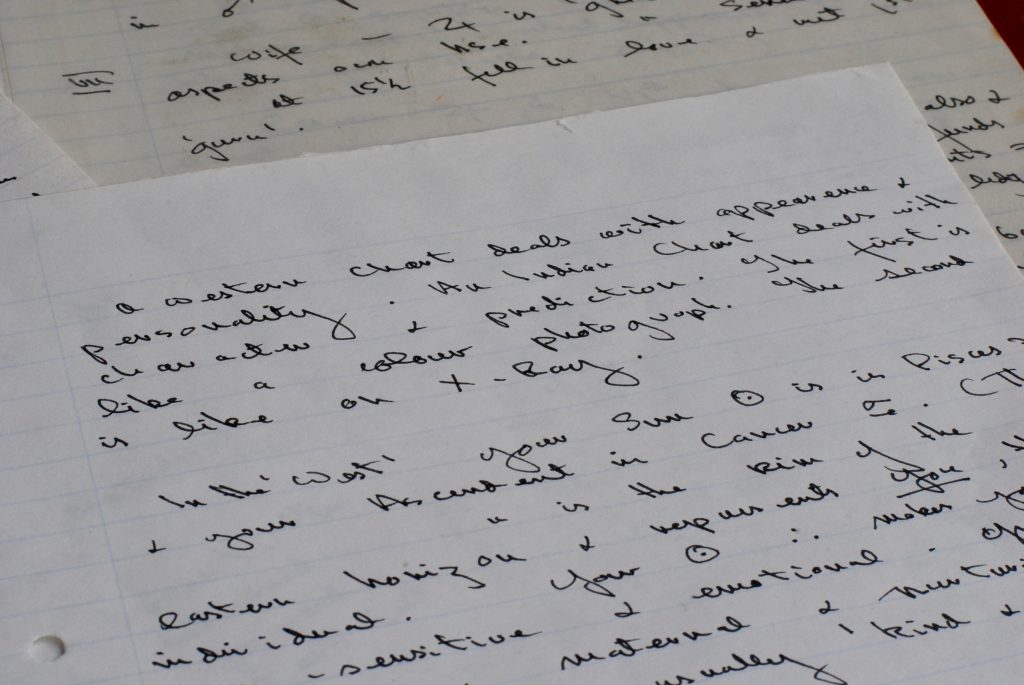 The horoscope held by the Burgess Foundation seems to date from 1984, according to internal evidence. The reading is prepared by Matt O'Dowd, who appears to have been a passing acquaintance of the Burgesses, and who offers a detailed if somewhat fragmentary analysis of Burgess's 'Indian' chart – 'like an X-ray' – based on his date and time of birth. It also seems clear that O'Dowd had interviewed Burgess in some detail about his previous life before writing up the horoscope, and he includes references to the death of Lynne – 'somehow expressed in this violent and impure collision … in the house of holiness'; to writing – 'Ruler is in a bad state, but aspects in his own house, therefore good … will write of holy and evolutionary things'; and to Burgess's religious upbringing and beliefs – 'this House explains your paradox – you have a strong Catholic and pure, decent, 'chaste' vibe. But, you go straight for the 'naughty' in writing & re-tail [sic] erotic autobiographic [sic] tales etc. etc. But the irregular in life is not 'you' at all.'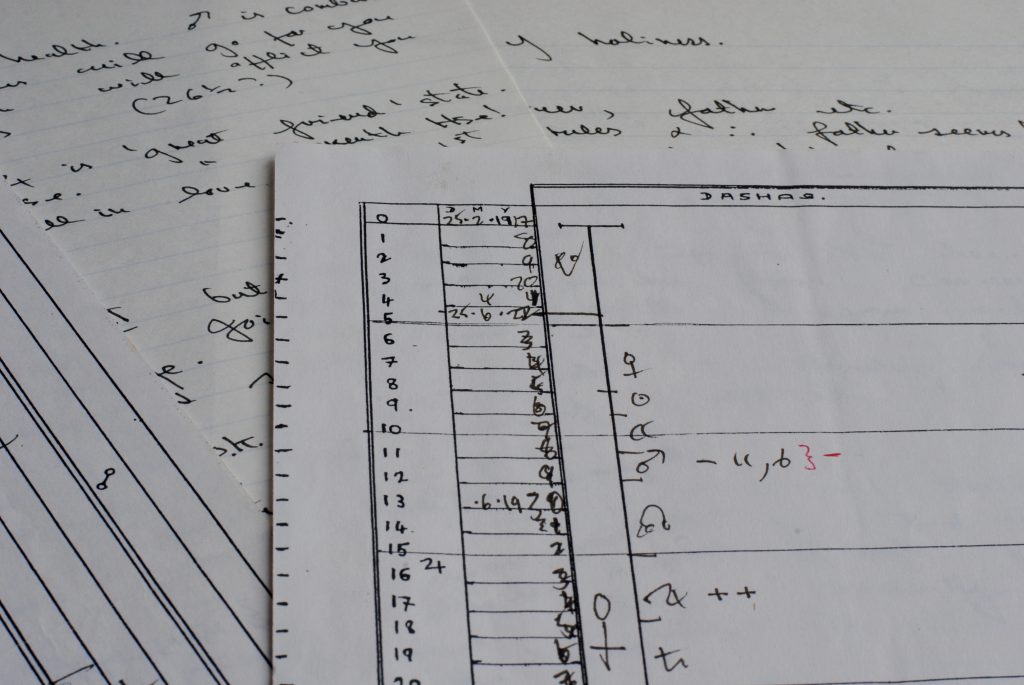 O'Dowd goes on to offer a reading of Burgess's 'Western' chart – 'like a colour photograph' – which deals with appearance and personality rather than character and prediction. Evidently Burgess is 'over-sensitive and emotional' as well as being 'maternal and nurturing', which altogether makes him 'an unusually 'kind and decent' type'. Burgess also has an 'acute acrobatic intelligence'.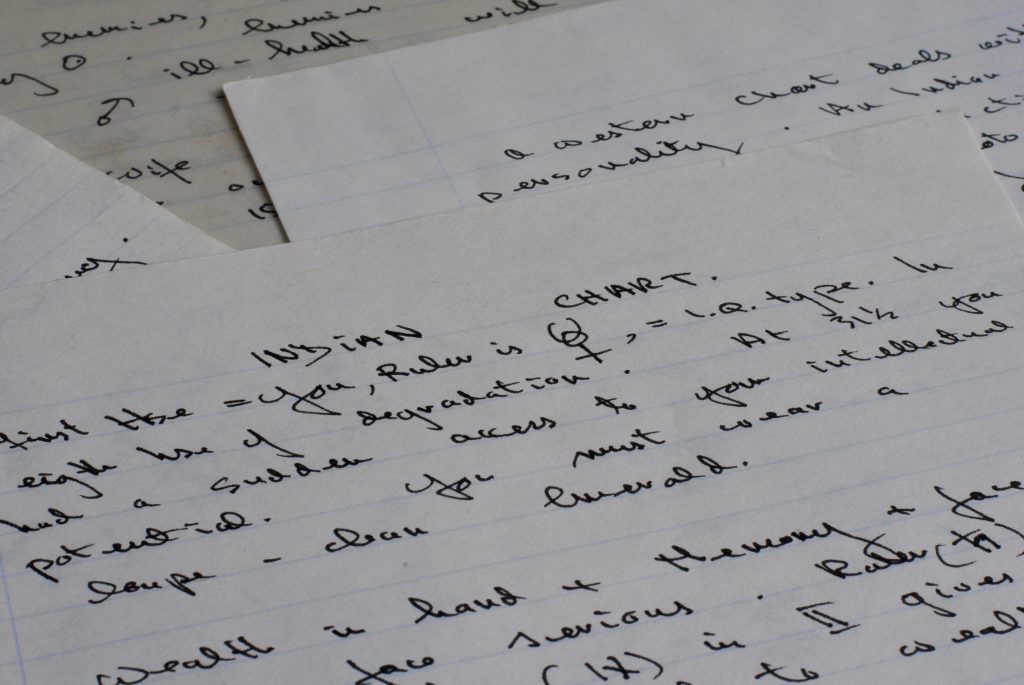 The specific attempts at prediction suggest that the years 1984 to 2000 will offer Burgess 'a marvellous period', with 'very good income from work' notably between 1984 and 1986. The period 1991 to 1994 will be especially smooth, though this must have been spoiled somewhat by Burgess's death in November 1993.
For the present Burgess is diagnosed with a 'vata imbalance', the remedy for which is six to eight small cups of hot water and orange daily, and a regular application of sesame oil to the torso and face. Burgess is also advised to wear a loupe-clean [i.e. flawless] emerald.
Sadly, what Burgess made of all this is not recorded. However, along with his occult manual The Tarot of the Bohemians by Papus and his eight Tarot decks – as well as the literary works in which the supernatural appears, such as Vision of Battlements, Beard's Roman Women, Earthly Powers and many more – his horoscope is an intriguing part of the material relating to his obsession with clairvoyance held at the Burgess Foundation.
Will Carr