NEWS AND BLOG POSTS
Object of the Week: Burgess's 1964 accounts
Graham Foster

29th November 2017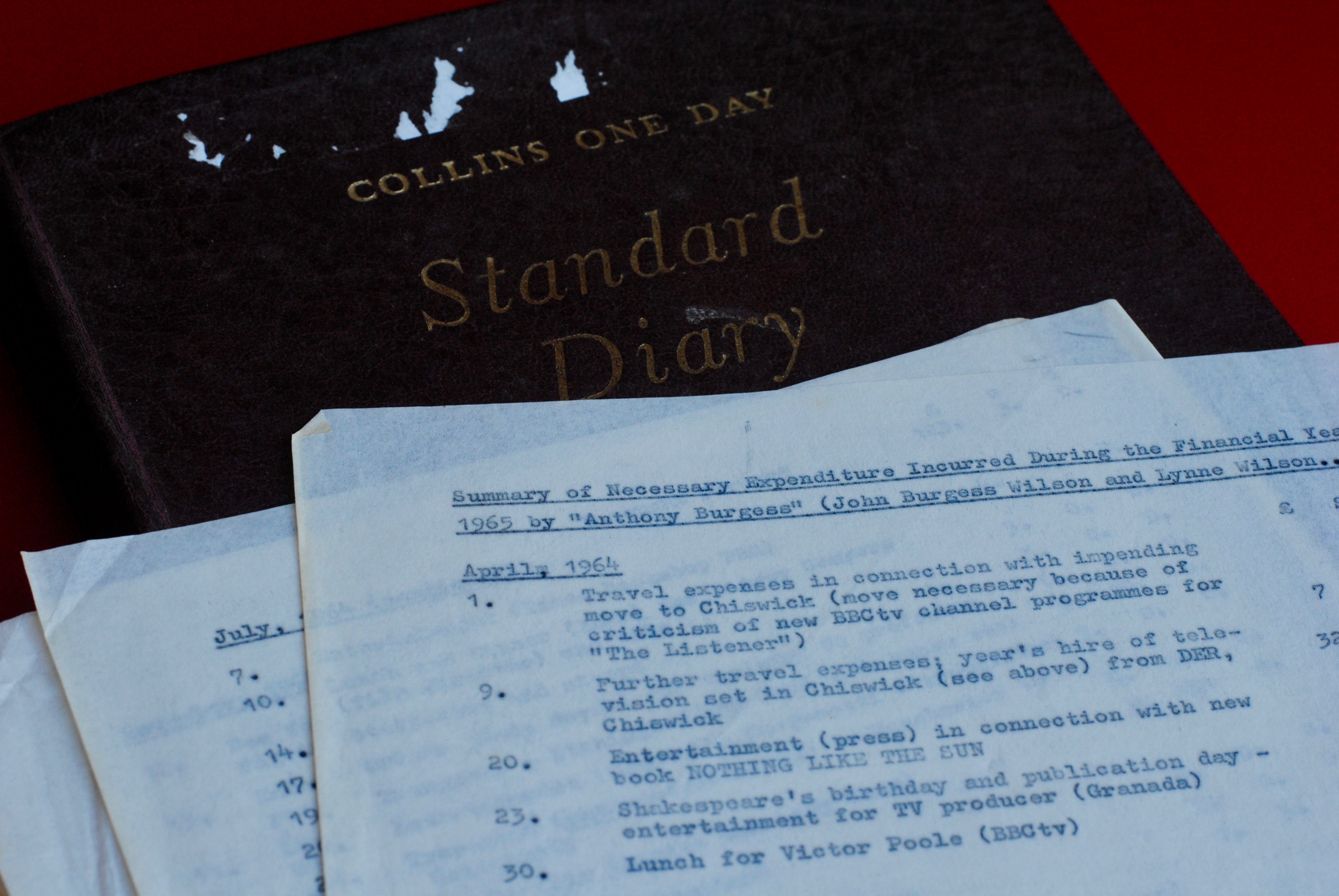 Anthony Burgess was not a prolific diarist, but the archive at the Burgess Foundation contains some notebooks with private journal entries and notes towards his writing projects. In most of these notebooks, only the first few pages have been filled with Burgess's writing, with the remaining pages either blank or full of sketches or hastily written notes (addresses, phone numbers and so forth). The exception to this is the diary Burgess kept for 1964, which gives a detailed picture of his movements, his social engagements, and other notable events through the accounts of his expenses that he has inserted into the pages of the diary.
This carbon copy of Burgess's expenses for the year sheds light on biographical facts which are obscured in the autobiography. For example, in You've Had Your Time, Burgess writes that he moved to Chiswick in the winter of 1963, yet these expenses reveal that the exact time was between 1 and 9 April 1964. In his record of expenses, Burgess states that the move to Chiswick was to facilitate his role as the television critic of The Listener.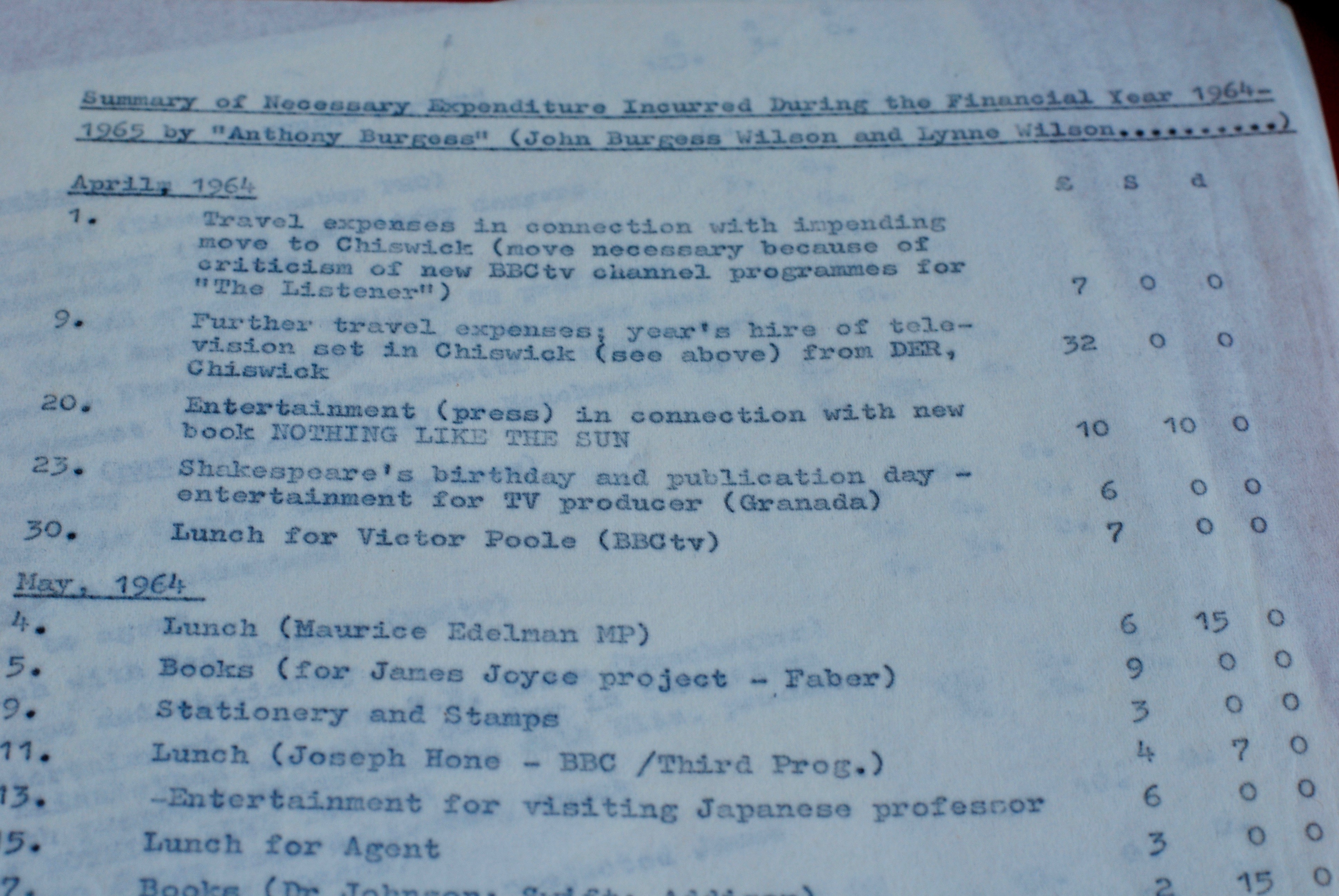 It becomes clear that, as the year progresses, Burgess's house in Chiswick (a village on the edge of west London) made it possible for him to appear more regularly on radio and television. His expenses detail meetings with BBC personnel. He met the producer Victor Poole to discuss a television documentary, The Artist in Society, for which Burgess wrote and presented a feature titled 'The Novelist Today'. He also met with the producer Christopher Burstall, with whom he would work on the 1965 television documentary Silence, Exile, and Cunning. This film focused on the work of James Joyce, and the collaboration led to Burgess dedicating his critical book Here Comes Everybody to Burstall. In his autobiography Burgess describes these meetings with Burstall as 'long preliminary discussions over sumptuous luncheons in the West End.'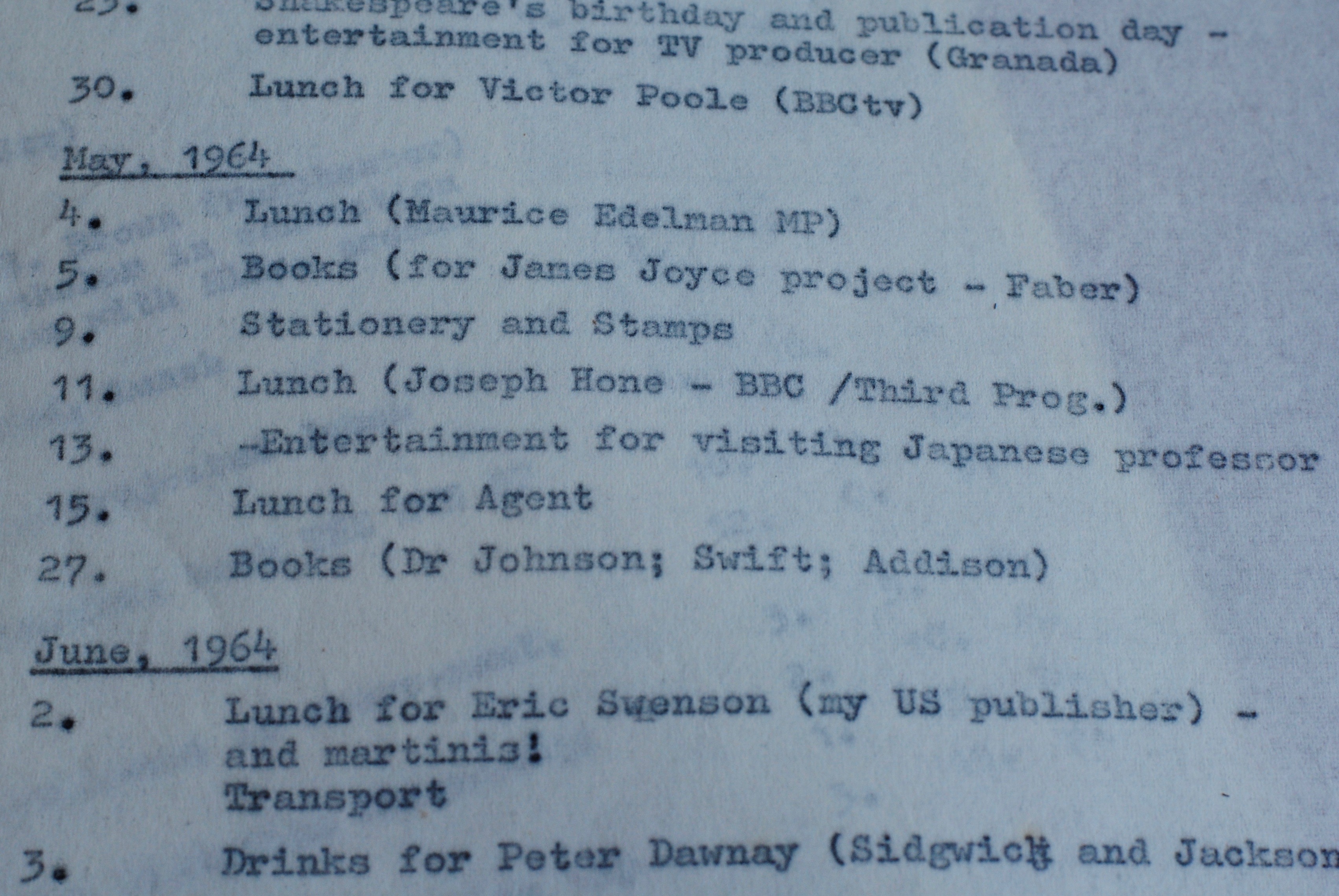 There are business expenses for events surrounding the publication of Burgess's novel Nothing Like the Sun, which appeared on 23 April 1964, the four-hundredth anniversary of Shakespeare's birth. Shortly before publication, Burgess notes that he was entertaining the press and some producers from Granada Television.
The expenses incurred by Nothing Like the Sun cast light on Burgess's creative approach to claiming business expenses. He notes a meeting with 'B.B. Brown (Manchester) – Elizabethan phonetics scholar', regarding a 'proposed dramatisation with Eliz. pronunc. of Nothing Like the Sun' [sic]. This, in fact, refers to Bernard Brown, Burgess's friend from his days at Xaverian College and Manchester University, who was not an Elizabethan scholar. This friendship was commemorated when Burgess dedicated his novella The Eve of St Venus (1964) to Bernard B. Brown.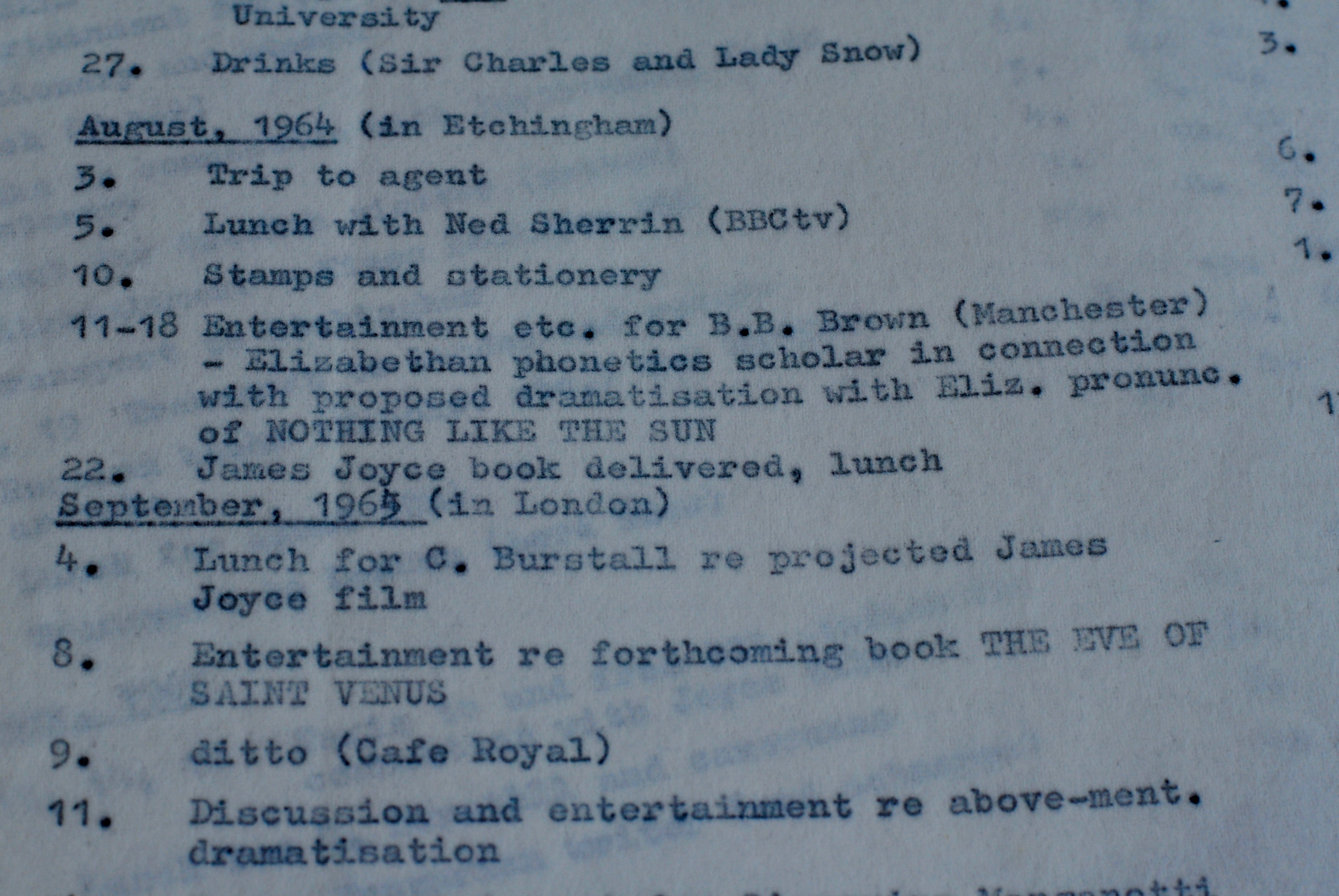 Elsewhere Burgess mentions a lunch with Maurice Edelman, the Member of Parliament for Coventry North. Edelman was a novelist, journalist and broadcaster, and Burgess became friends with him in the early 1960s, dedicating his novel Honey for the Bears (1963) to Edelman because 'he knew Russia and spoke the language and saw what the book was about'.
Another significant meeting recorded in these papers is with Sir Charles and Lady Snow. These are the novelists C.P. Snow and Pamela Hansford Johnson. Despite his assertion that they were 'plain writers', Burgess became friends with the Snows around the time he first met Edelman (who knew Snow), and dedicated Nothing Like the Sun (1964) to them. Snow and Johnson also appear in Beard's Roman Women, attending a fictionalised version of the party at the Time-Life building in London which was one of Lynne Burgess's final public appearances before her death in March 1968.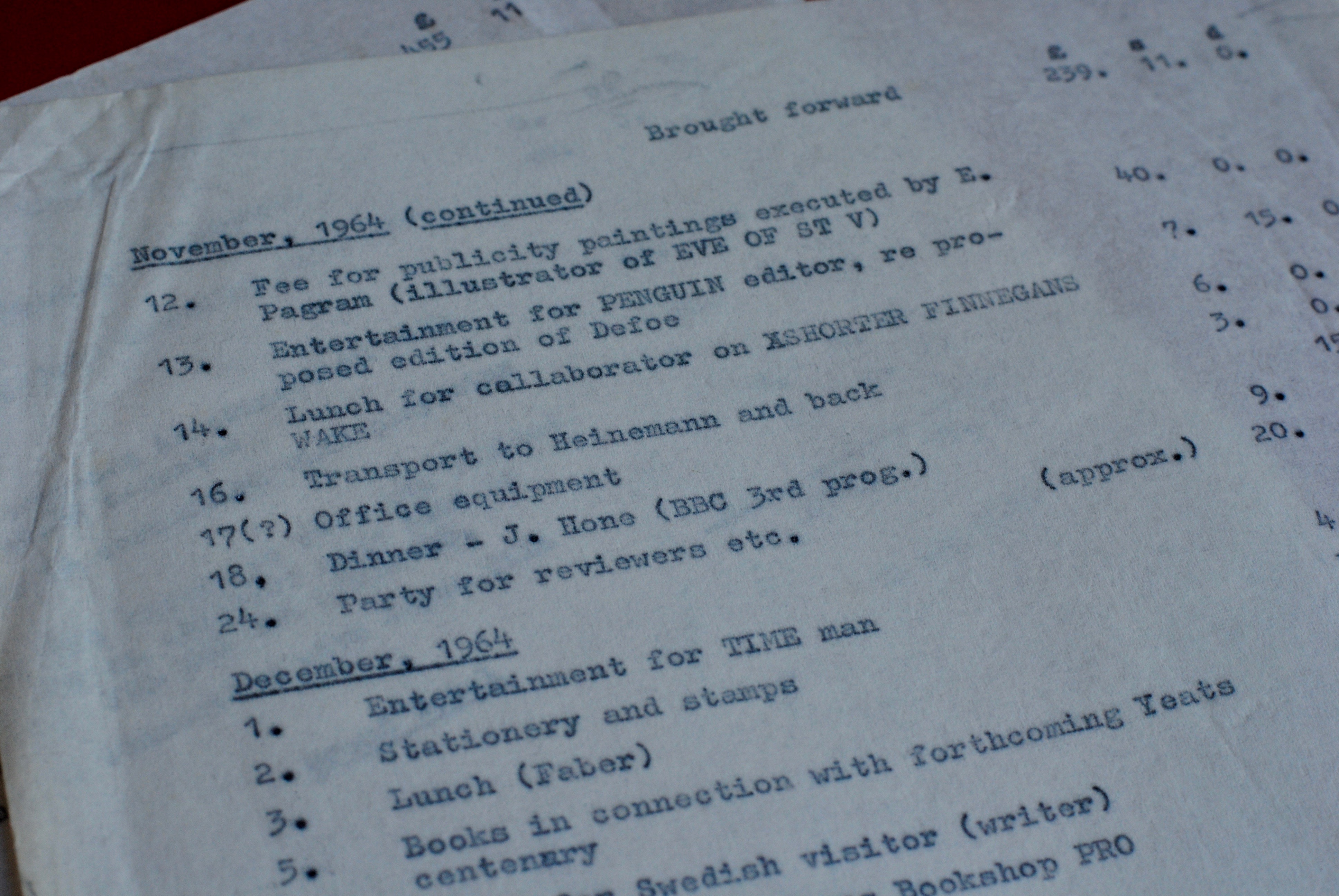 There is evidence that Burgess travelled for his work in these expense reports. Not only do they record his journeys around the south of England, but they also show that he undertook research in Dublin for his book on James Joyce, Here Comes Everybody, between 5 and 7 November 1964. This is not the trip during which he filmed Silence, Exile and Cunning, as he reports in his autobiography that filming took place in February 1965.
The expense report in the archive shows that, in the year 1964-65, Burgess spent a total of £512 and 11 shillings on books, travel, entertainments, dinners and drinks. This is the equivalent of around GBP £6,590 at today's values.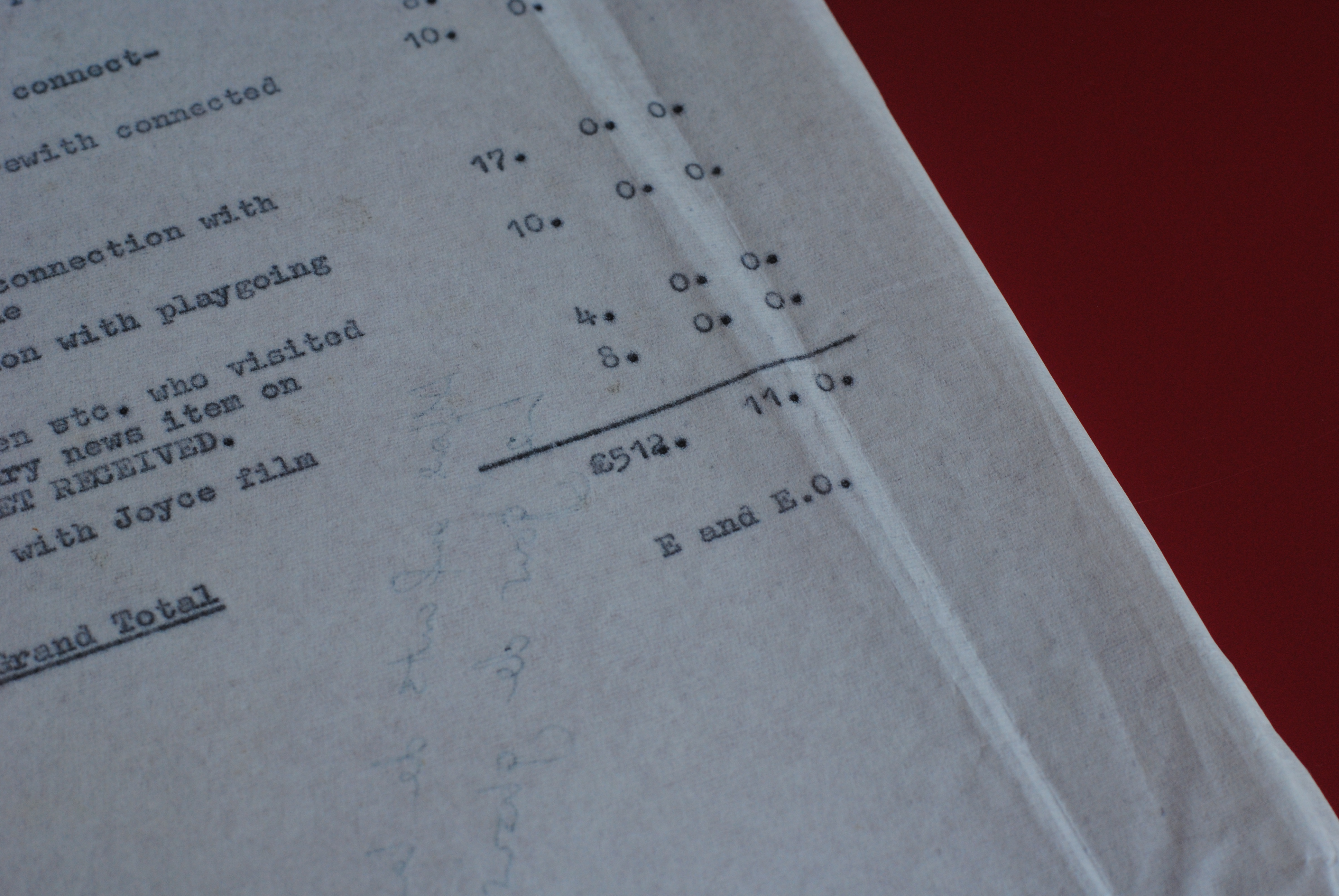 Documents such as this are important because they give a picture of Burgess's everyday life without the later inventions of his memoirs. The expense accounts confirm certain facts about Burgess's life which are often obscured in his later writings. They reveal Burgess to be a writer who always kept a close eye on the price of taxis and drink.