NEWS AND BLOG POSTS
Object of the Week: Burgess's Copy of Dune
Graham Foster

6th June 2017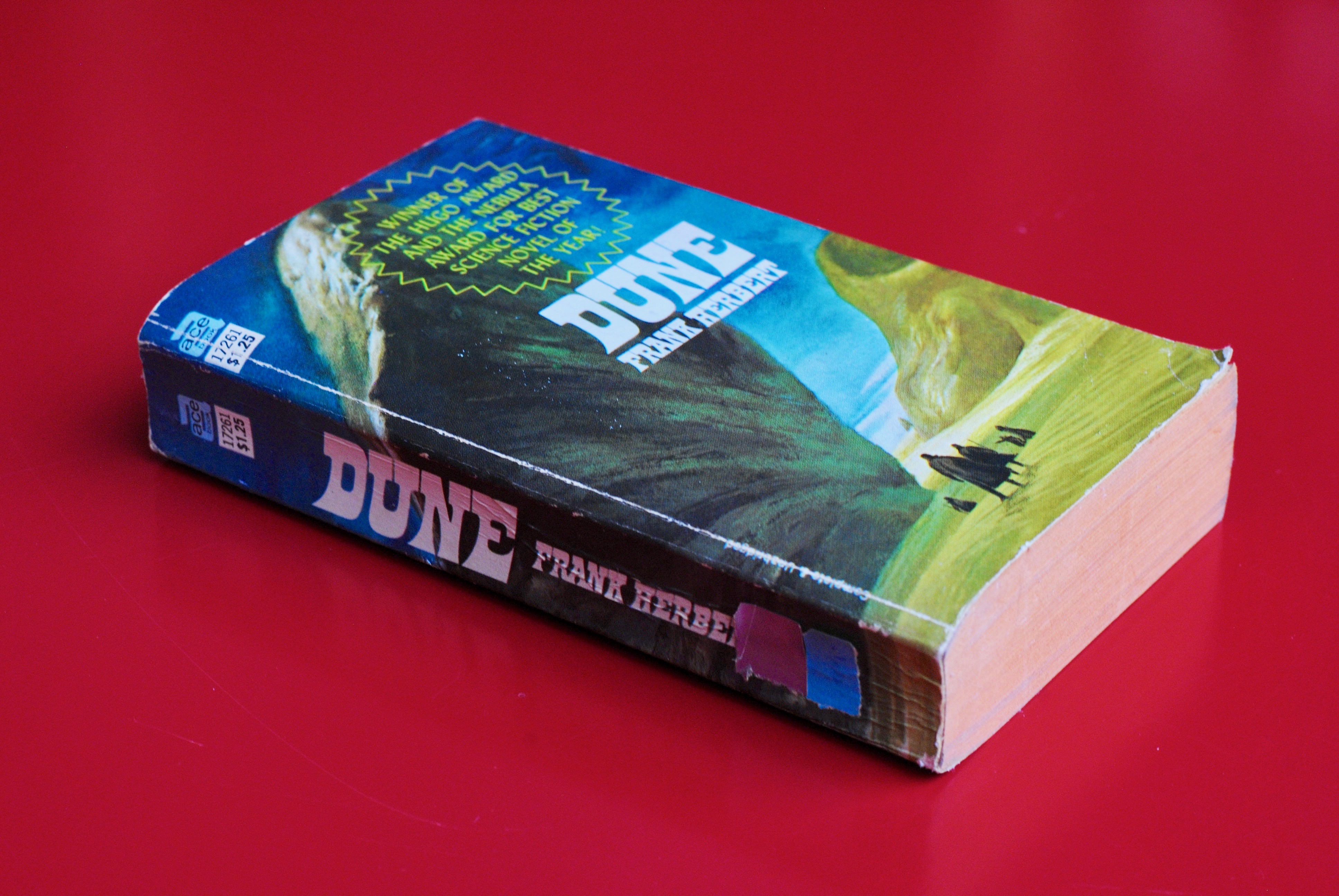 This copy of Frank Herbert's Dune dates from around 1966, when Burgess reviewed it for the Observer. He was impressed by the scope of the book, and Herbert's literary creation, revealing his knowledge, if not perhaps his love, of science fiction conventions.
Dune is set on Arrakis, a desert planet on which humans mine the mind-expanding spice 'melange'. Arrakis is home to giant sandworms, a native species which creates the spice as a by-product of their life-cycles. Arrakis is also the location of a long feud between aristocratic houses. It is in this setting that Herbert tells of the rise of Paul Atreides, the heir to the House of Atreides, who has superhuman powers and is an expert military strategist.
In a review of Dune, Burgess writes that 'The Duke of Atreides and Baron Harkonnen and the rest of them are genuine characters whose acts emotionally involve the reader'. Even so, the review is not completely complimentary: 'this devotion to detail and the evidence of immense literary care tend less to exalt the spirit than to depress it. What a waste, really. All this skill expended on mere fantasy'.
In his introduction to this review, Burgess is very vocal about his dislike of science fiction. 'SF,' as he calls it, is not written by artists, but by 'a laboratory-man chain-smoking over a weekend typewriter'. Of the cerebral worth of science fiction, Burgess writes that it 'resembles Jane Austen in its intellectual engagement. But Jane Austen at least created amiable character and wrote very well'.
He tries to articulate his dislike of science fiction further, claiming that, as writing, it is dull: 'You practice the genre if you have fancy but no imagination. Bizarre things matter more than such fictional staples as character, psychological probability and credible dialogue. There is usually an atmosphere of evasion of real-life issues, occasionally qualified by dutiful lip-service shibboleths about human freedom and embattled ecology. Content counts more than form.'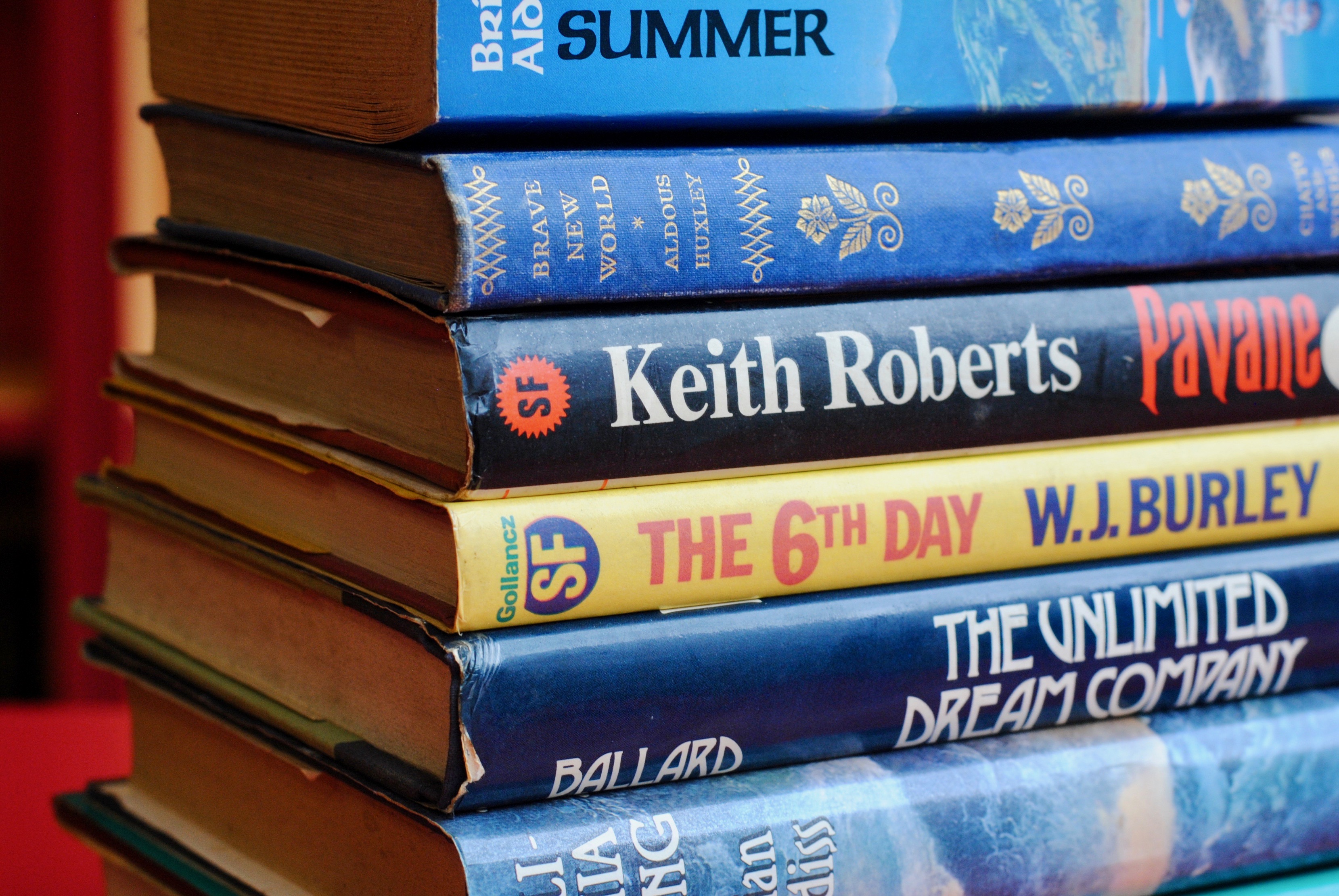 Despite these complaints, there is much evidence that reveal Burgess read widely in the genre, and was impressed by several novels. In Ninety-Nine Novels: The Best in English Since 1939 (1984), he names novels by Brian Aldiss (with whom he corresponded for several years), J.G. Ballard, Russell Hoban, and L.P. Hartley. He also identifies lesser known works of science fiction, including Pavane by Keith Roberts, an alternate history in which portrays a Catholic Britain in which there is a rebellion against the controlling grip of the church. The library at the Burgess Foundation contains many works of science fiction, including novels by H.G.Wells, Aldous Huxley, W.J. Burley and Margaret Atwood.
Even though Burgess attempts to distance himself from genre fiction in his journalism, it is clear that he thought that writing science fiction was a worthy experiment to undertake. His most famous novel A Clockwork Orange (1962) presents a future world in which the violent droogs run free through the urban streets, and The Wanting Seed (1962) shows a Britain turned into a megalopolis by overpopulation. The End of the World News (1982) shows Burgess trying his hand at apocalyptic fiction, and 1985 (1978) is a work of Orwell-inspired speculative writing.
Burgess's love of literature really transcended generic boundaries, and his denigration of science fiction does not tell the whole story of his engagement with the genre. His writing about books often reveals surprises, and shows that he was able to judge books on their immediate merits and not his preconceived ideas about genre or subject matter. Dune is a perfect example: a novel which seems completely opposed to Burgess's interests, yet he is (reluctantly, maybe) impressed with Herbert's literary skill.