NEWS AND BLOG POSTS
Object of the Week: Burgess's Grammy Nomination
Graham Foster

27th February 2017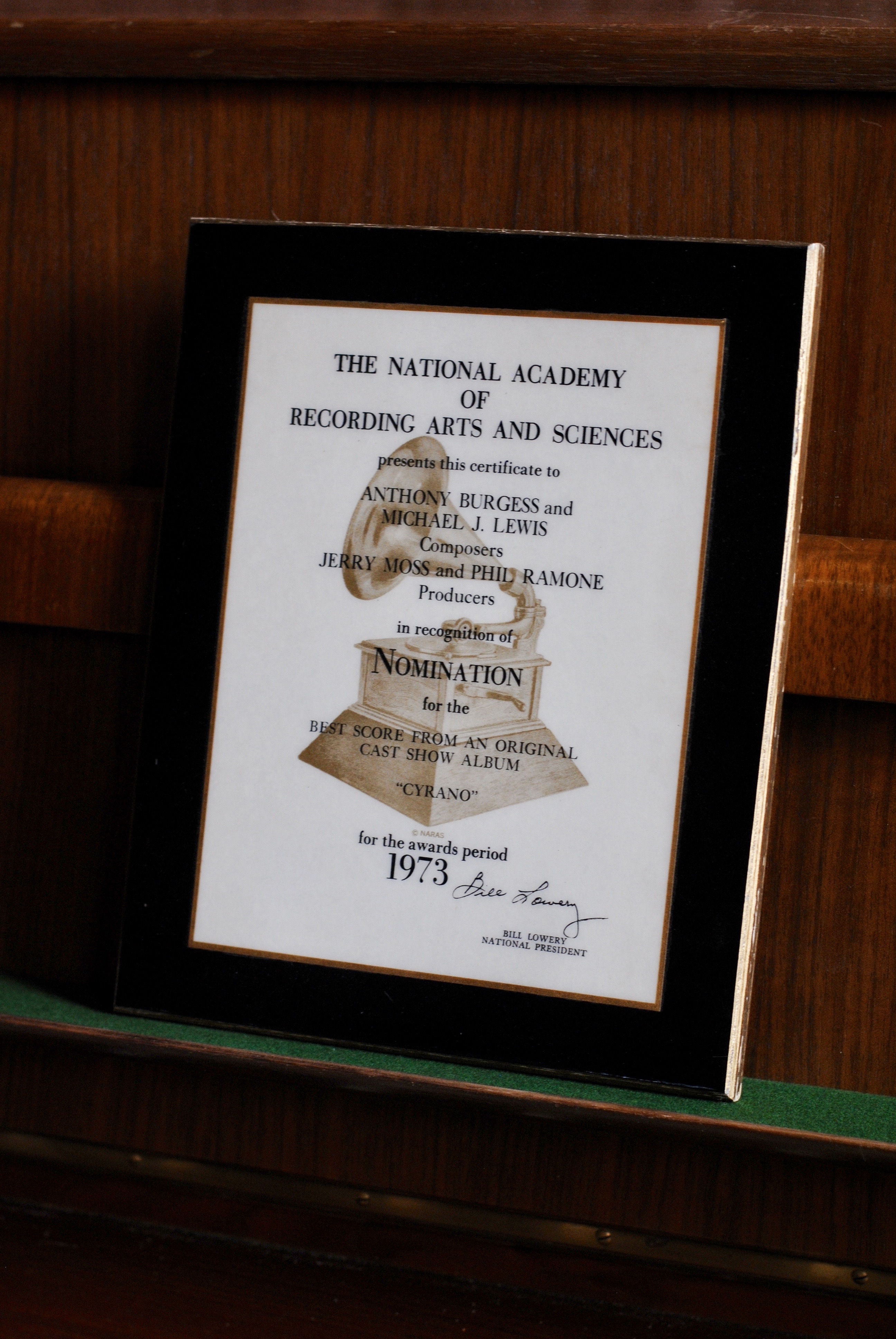 Anthony Burgess was nominated for a Grammy in 1974 for his work on the musical version of Edmond Rostand's Cyrano de Bergerac. He shared the honour with his collaborator Michael J Lewis, a Welsh composer of music for film and theatre.
Burgess was originally commissioned to translate Cyrano de Bergerac by the Tyrone Guthrie Theater in Minneapolis, Minnesota, with Michael Langham directing and Paul Hecht as the big-nosed hero. This 1970 production was an enormous success, and Burgess credits it with saving the Guthrie Theater from bankruptcy. The theater went on to commission Burgess a second time for his translation of Sophocles's Oedipus the King in 1972.
After learning of Cyrano de Bergerac's success, the producer Richard Gregson approached Burgess with the idea to turn it into a Broadway musical. Cyrano (as the musical was titled) tells the story of a nobleman soldier, poet and musician who believes his talents are obscured by his large nose. In love with the beautiful Roxane, he believes she will never love him because of his ugliness, and aids a fellow soldier in wooing her by writing love letters. Roxane, of course, falls in love with the writer of the letters, without knowing it is really Cyrano. Christopher Plummer, Langham's first choice for the non-musical production, played the main role for the musical's entire run.
The composition of the musical was not an easy task for Burgess, who describes it in his autobiography as a 'war'. When it opened in Minnesota in 1972, Burgess states it 'was not quite a failure', and that the 'audience clearly wanted more play and less music'. Nevertheless, the musical went to Toronto and Boston, and eventually debuted on Broadway on May 13 1973. Burgess's instincts proved correct, and Cyrano never received the critical or audience acclaim that his previous, non-musical version had enjoyed.
Cyrano eventually lost the Grammy to Stephen Sondheim's A Little Night Music, his musical inspired by Ingmar Bergman's Smiles of a Summer Night. Even after this disappointment, and Burgess's doubts about the success of the musical, Burgess's translation of Rostand's play continues to be used for performances. In 1983 it was used in a Derek Jacobi-led production by the Royal Shakespeare Company (filmed for television in 1985), and in 1990, Burgess's translation was used for the subtitles of the 1990 film starring Gerard Depardieu. More recently in 2008, a play was performed on BBC Radio 3 using Burgess's translation, and starred Kenneth Branagh and Tom Hiddleston.